"The Mercedes-AMG® G 63 is Nuts in the Best Way" From Automobile Magazine
The G-Wagon is more than just a Mercedes-Benz SUV. The G-Wagon has become an iconic vehicle that everyone knows, love, and desires. However, this iconic masterpiece started out as more than just a pioneering sport-utility-vehicle. The G-Class started off as a military vehicle and hasn't changed much in design or looks since it's debut in 1979. While still retaining it's military roots in design, the G-Wagon has become a status symbol driving around streets of affluent areas from New York, all the way to Los Angeles.
The 2019 model year brings many changes to the G-Wagon while still retaining the roots everyone knows and loves. Automobile Magazine reports, "For the 2019 model year, Mercedes-Benz finally unveiled a true, new G-Class—and fixed everything that needed fixing. Now there's generous width up front. The ride is hugely improved. A new nine-speed automatic mates with a more powerful twin-turbo V-8. Beautiful digital displays now gleam in the instrument panel. There's even 64-color LED mood lighting so you can bask in the nightclub ambiance even if the doorman won't let you in. Yet the essential "G stuff"—the burly look, the off-road prowess, the tanklike build quality, even the push-button door handles—remains essentially the same. "
After Automobile Magazine kept an AMG® G 63 for a week of joyriding, they had to simply say this, "The G 63—and I mean this in the best way—is freaking nuts." Like every other Mercedes-AMG® vehicle, the AMG® G 63 features an engine that is hand-built by a single AMG® engine-builder from start to finish, autograph and all. Hence the term, "One Man. One Engine" that has been coined by Mercedes-AMG®.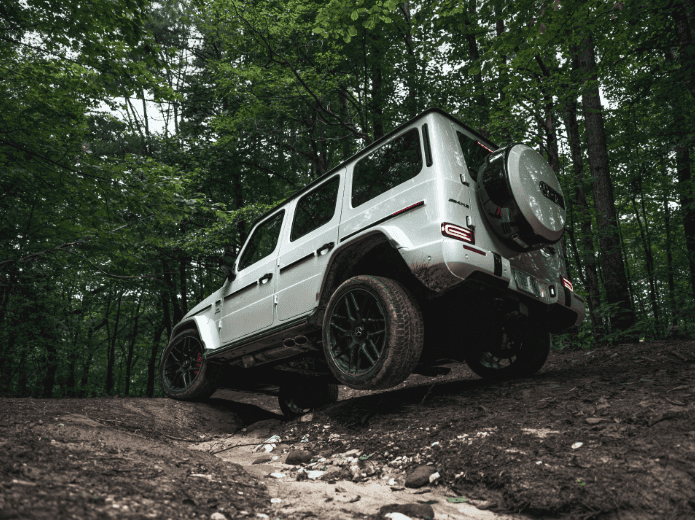 Clearly the G-Wagon is much more than an SUV, and we cannot agree more with Automobile Magazine. It has the performance, power, and style of something much bigger than an SUV. Most importantly, it leaves lasting impressions on anyone who drives the G-Class, or anyone who even looks at it. Automobile Magazine finished off their report on the AMG® G 63 by saying, "When I got home, I didn't want to park the G 63. I wanted to hang it on my wall.". It's safe to say this is the impression many others get of the G-Wagon.
Interested in checking out the AMG® G 63 for yourself? Or perhaps you would like to factory-order one to your liking? Mercedes-Benz of Huntington can be of assistance. Our friendly and knowledgeable Sales Consultants are ready to assist you with your next new Mercedes-Benz or your next Certified Pre-Owned Mercedes-Benz purchase. Be sure to contact us with any questions you have, or stop into our showroom today and view our AMG® vehicles in person. We look forward to seeing you soon!