Why Is My Car Leaking Water?
It can be nerve-wracking to see a puddle of water or fluid forming underneath your vehicle. However, it is not necessarily always indicative of a problem! You may notice water puddling under your car from time to time, especially during the summer months on Long Island. This is usually due to your vehicle's air conditioning system generating condensation. This is similar to seeing condensation form on your home air conditioning unit, and is usually nothing to worry about. However, if you are unsure or if you feel that there is a liquid other than water forming underneath your car, be sure to stop by our Mercedes-Benz Service Center in Huntington, NY to have one of our Certified Mercedes-Benz Technicians take a look for you.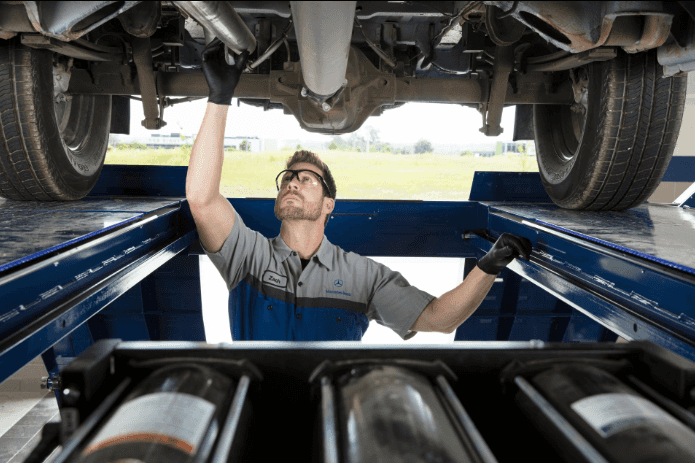 What Is Causing Fluid To Leak Out Of My Car?
If you are convinced that your vehicle is leaking something other than water, there are other indications that can determine if your car is in need of a repair. Here are some steps to help you determine what exactly is going on in your vehicle.
Place a sheet of paper under the leak. If the fluid is something other than water, the color will show up in the pavement. If it's blue, green, or yellow, it's probably coolant, not water.
If more than a small amount of water is coming from your exhaust, a blown gasket may be causing coolant to be burned along with the fuel. That will result in large amounts of water and white smoke coming out of the exhaust pipe.
While coolant is usually easy to spot due to its color, you can always check the level to make sure. If it's low, you'll want to bring your car to our Mercedes-Benz Service Center near Huntington Station, NY as soon as possible.
It's possible the leak is coming from a cracked windshield wiper fluid reservoir. That can be caused by using water in your windshield wiper fluid. The water freezes in the reservoir, expanding and causing the plastic container to crack. You can tell it's windshield wiper fluid by its light blue or light green color. Wiper fluid leaks can usually be found by the front tires.
If any of these steps have helped you determine that it is not air conditioning condensation, then you will want to make a service appointment with our Service Department to get your vehicle's leak fixed in no time.
What Is Leaking?
Red – Transmission Fluid or Power Steering Fluid
Orange – Transmission Fluid or Radiator Coolant
Yellow – Radiator Coolant
Green – Antifreeze from Water Pump, Hoses, or Radiator
Blue – Windshield Wiper Fluid
Dark Brown – Brake Fluid or Older Engine Oil
Light Brown – Newer Engine Oil or Gear Lubricant
Pink – Power Steering Fluid or Transmission Fluid
While many people may experience condensation forming underneath their car with the air conditioning on more during the summer months, feel free to stop into our Service Drive to receive assistance if you are unsure. Our dedicated staff are all here to help and ensure you receive the best experiences possible. Contact us today with any questions or concerns you may have. We are here to help all our valued Mercedes-Benz customers near Greenlawn and Suffolk County, NY!