Mercedes-Benz Debuts New 2021 Mercedes-Maybach S-Class DIGITAL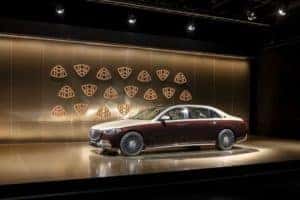 Anyone who doesn't live under a rock associates the Mercedes-Maybach title with the epitome of luxury, innovation, success, and even as a life goal . Since the brand being founded in 1909, it has become a part of an almost cult-like culture for all ages, being shown as a symbol of elegance in classic movies like Inception, to even being involved in the youth and hip-hop scene in more than 700 rap songs (and ongoing), and even being driven in and mentioned by rap icons such as Ja Rule, Jay Z, Kanye West, Nas, and Rick Ross. But no matter what category you're speaking of you will find the crème de la crème riding in one, ranging from Jay Leno, Samuel L. Jackson, Rihanna, Madonna, Will Smith, to MLB player Alex Rodriguez famously known as A-Rod, Boxer Floyd Mayweather Jr., and the list goes on. Although you see many people in pop-culture sporting this luxury vehicle, you don't have to be famous to be riding in this new Mercedes-Maybach S-Class. In fact, many people right here on Long Island, NY own a Mercedes-Maybach. You can see many different Mercedes-Maybach models whether you're at the Americana Manhasset doing some shopping, on the LIE/ Long Island Expressway on your commute to work in New York City or Manhattan, on your getaway to The Hamptons and out East, or even just right here in Huntington, Suffolk County. No matter where you'll see this new Mercedes-Maybach S 550 after it's expected release in the summer of 2021 though, you'll be doing a double take with its beautiful new features, and you'll understand exactly why it has an immense cult-like following behind it!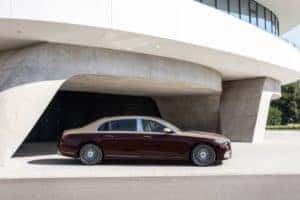 Let's start with what you'll see first, the eye-catching exterior. With a unique two-tone paint, created by a long and grueling process that shows high craftsmanship, Mercedes-Maybach gives you elegant options such as Kalahari Gold/ Rubellite Red, Mojave Silver/ Emerald Green, and Obsidian Black/ Diamond White. With the B-pillar it shares with the original S-Class sedan, the difference starts at the wheelbase. Being extended 9.1 inches from the standard S-Class, and length being raised 8.4 inches, this Mercedes-Maybach is unique in its own dimensions. Not to mention, the new luxury sedan will also feature a classic Maybach-worthy front grille featuring a vertical-lined concept, with the three-pointed star adorning the hood.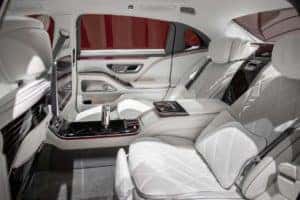 Now, it's not a Mercedes-Maybach unless you feel like you've entered a Four Seasons Hotel just by stepping into the cabin. With a leather-lined ceiling above, passengers sit comfortably with a wide range of adjustment that could be done to their seat. Positioned upright, or reclined back to experience the Massage Feature at its greatest, those sitting in the roomy executive seats get the royal treatment. Speaking of executives, those who can't seem to escape from the busy work life can rest easy, there are plenty of screens to use any type of media with the MBUX system, 4D Burmester Surround Sound System to create a noise-cancelling environment, Adaptive Rear Lighting, Neck and Shoulder Heated Seats to help with fatigue, spacious tabletops, and two different available Energizing Packages. Passengers also have an option to have a champagne cooler with custom sterling silver champagne flutes to go along with it. Wouldn't this be great on the way to the Wölffer Estate Vineyards? The front back seat rests are enveloped in wood, giving it a classic yet modern charm with the exotic trims used.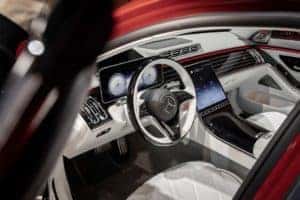 The backseat of this Mercedes-Maybach S-Class is where you want to be, but that doesn't mean that they've skimped on the Driver's and Front Passenger's seat as well. The center console and armrests almost look like they're floating in the front cabin space in a futuristic fashion. Five different display screens are available, each packed with high-tech features in Maybach-specific design. The second generation MBUX system integrated into the displays recognizes eye-direction as previewed in the standard S-Class debut earlier this year. Hand gestures, and body language are also taken into account, creating an innovative and intuitive experience for the driver.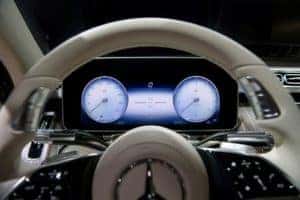 Driving becomes more of a joy with the turbocharged 3.0 litre six-cylinder hybrid engine, as well as standard All-Wheel-Drive, the Mercedes-Benz Airmatic Air Suspension, and adjustable Powertrain Stability Control, Suspension, and Steering by using the DYNAMIC SELECT feature. Not that you would mess with perfection, due to the original Maybach Mode appealing to comfort and a smooth ride by softening the throttle and starting the car in second gear. With various Driver Assistance Programs like Drive Pilot and more, as well as safety features such as PRESAFE® and airbags for the rear compartment, this new Mercedes-Maybach S-Class has something for everybody, regardless of the seat you sit in.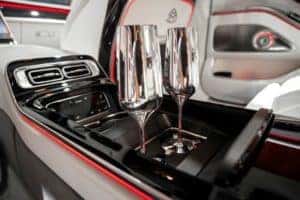 You too can experience and be a part of the legacy that comes with riding in a Maybach by stopping by our dealership located near The Paramount, Vanderbilt Museum and Planetarium, and other great spots in Huntington, once the new ride hits dealerships in the summer. Mercedes-Maybach enthusiasts in the Huntington, Commack, Cold Spring Harbor, Greenlawn, Northport, and surrounding areas can stay up to date with more information on the new luxury sedan regarding its release to dealerships, more news, and updates by reading our new blog posts, or by contacting our Sales Department and speaking to a member of our enthusiastic staff. Whether you drive a 2021 Mercedes-Maybach S 580, a GLE 350, an A-Class, C-Class, the 2021 MotorTrend Car of the Year E-Class, or any AMG vehicle, you will always be greeted by a smile and treated with the highest level of service here at Mercedes-Benz of Huntington!
*Photos sourced from CarandDriver's article, https://www.caranddriver.com/news/a34714218/2021-mercedes-maybach-s-class-revealed/
& Motor Authority's Arcticle : https://www.motorauthority.com/news/1124232_2021-mercedes-benz-maybach-s-class-price-specs-review-photos-info
Be sure to check them out next!*