Mercedes MBUX: What is it?
This Wednesday, Mercedes released teaser photos for the newly designed 2021 S-Class. One of the most noticeable features of the launch was the new media interface using MBUX technology. Through an Instagram livestream, Mercedes unveiled the large screen interface for the MBUX system as well as many of its features. So, what is MBUX exactly? MBUX, which stands for Mercedes-Benz User Experience, is the newest iteration of the user-interface and infotainment system included in all Mercedes.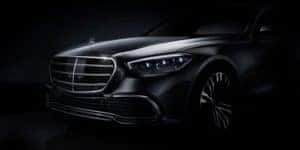 Originally introduced in 2018, MBUX is inspired by the Vision EQS concept's virtual digital arena. The new S-Class features three main screens in the backrow with a large display in the front center console. The MBUX in the S-Class was designed from back to front, giving it multi-seat connectivity. This means that content such as media or navigation can be shared between any of the car's screens. This array of screens enables each passenger to have a completely personalized media experience. Between the back seats is located a tablet that can also be used to control media around the car and even read emails. However, given the amount of personal data that will be stored in MBUX to enable this connectivity, Mercedes is taking privacy very seriously. New privacy measures are protected by a finger print scanner or "biometric authentication" which unlocks passenger's personal profiles.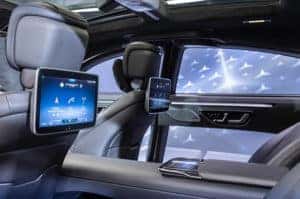 The 2021 S-Class also features voice recognition which is available from every seat. This feature can be used to make suggestions. For example, commands such as, "Mercedes, I'm tired" will then be met with a response recommending to find a rest stop. One of the most exciting features in the new S-Class is the augmented reality heads-up display. This feature enhances navigation by utilizing augmented reality to project arrows pointing to where you should turn. It's no surprise that Mercedes has fit so much innovation into its newly redesigned flagship model, The S-Class.
If you are near Greenlawn, NY, and have interest in the 2021 S-Class, contact Mercedes-Benz of Huntington today to be put in touch with one of our sales associates.