The 2021 S-Class Debut

Source: https://www.autoblog.com/2020/09/02/2021-mercedes-benz-s-class-revealed/
After a long wait, the 2021 S-Class has finally been revealed to the world by Daimler. After being hidden in a camouflage wrap for an extended period of time, little was known about the new luxury car as mentioned in our previous blog post regarding the new car, but now the time has finally come for all Mercedes-Benz enthusiasts to see the brand new 2021 S-Class that will serve as flagship for the company, and will set the precedent for future models to come. Be prepared to be amazed with the newly announced 2021 World Luxury Car of the Year according to the World Car Awards, the new technology is truly immaculate and never before seen.
Performance
According to Autoblog, two different engine options are available in the new 2021 S-Class depending on whether you purchase the S 500 4matic, or the S 580 4matic variant. The S 500 features the powerful 3.0L turbocharged inline six-engine, creating 429 horsepower and 384 pound feet of torque with the EQ boost system. On the other hand, the S 580 includes the almighty 4.0 turbocharged twin turbo V8 engine, generating up to 496 horsepower and 516 pound feet of torque. Both the S 500 and S580 will feature a 48 V electrical architecture and a 9-speed automatic transmission for shifting, making the 2021 S-Class even more powerful than it's predecessors, allowing you to tear through the streets of Huntington limitlessly while also upkeeping the highest degree of luxury.
The air suspension will stay standard in the S-Class but the E-Active Body Control feature seen previously in the GLE and GLS, will be the real catcher of attention. This feature individually regulates the damping and spring forces at each wheel. The 4 wheel steering system that will be included makes the new flagship vehicle more agile on long bending roads like ones you may regularly drive on in Cold Spring Harbor by cutting down on the vehicle's turn radius. Both the S 500 and S 580 variants may have slight differences but both will feature all-wheel drive excitingly.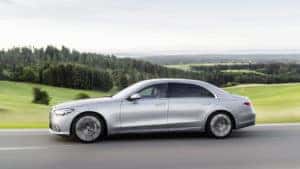 Source: https://www.autoblog.com/2020/09/02/2021-mercedes-benz-s-class-revealed/#slide-2260765
Exterior
Now let's get to the good stuff. After all the patience it required seeing the S-Class under camouflage, everyone is just buzzing to know what the exterior of the 2021 S-Class will look like, and how it might differ from previous models in the Mercedes-Benz lineup. From a first glance, the 2021 model follows the design of a traditional large sedan, but upon a better look, you'll notice that this S-Class is completely reimagined from anything you may have seen before in the Mercedes-Benz lineup.
First off, the car is larger. It's measurements are 208.2 inches long, 76.9 inches wide, and 69.2 inches tall. This creates a difference in size of 1.3 inches, 2.1 inches, and 0.4 inches respectively. Other than size, the grill seems to have changed shape slightly too, to fit the overall new proportions of the car, and create a better balance. The headlights have also changed, now featuring a three-dot LED running light program, while the orientation of the rear tail lamps go from vertical to horizontal, and the new triangular shape of them help them wrap around the edge of the rear bumper more seamlessly. The rear marker lights have moved down in a similar fashion, to help show off the new slightly wider exhaust tips. The wheelbase is also 2.0 inches longer resulting in more beautiful, shorter overhangs. Wheels are available from 19" sizes to a whopping 21" option with the available AMG® package.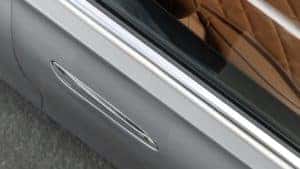 Source: https://www.cnet.com/roadshow/pictures/2021-mercedes-benz-s-class-sedan/33/
Mercedes-Benz has kept aesthetic in mind when making every choice in regards to the appearance of the new S-Class, but they did not forget to think of how the exterior may affect the aerodynamic specifications of the car. The door handles are now flushly mounted to the body of the car and electrically powered, which is new for the German company. Since they are electrically powered, they fully emerge when sensing the user's hand reaching out to open and enter the vehicle. The door handles being flush to the car improves aerodynamics by bringing the coefficient drag to about 0.22, making the new S-Class one of the most aerodynamic cars in the world.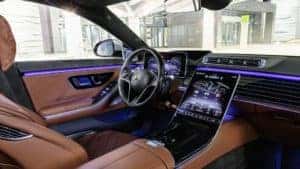 Source: https://www.cnet.com/roadshow/pictures/2021-mercedes-benz-s-class-sedan/30/
Interior
S-Classes are prized most for their interiors and the various available features in them that cater to your every beck and call. This makes the following statement hard to believe with such a reputation, but the 2021 S-Class interior includes more than we have even been able to digest. Design Boss Gorden Wagener has even referred to the vehicle as " The digital S-Class" . The innovation in this model is actually so advanced that it will set the precedent for future lesser Mercedes-Benz models in the future. The cabin of the sedan is luxurious and almost lounge-like with the usual options of Open-Pore wood, Brushed Metals, Illuminated Seat Belt Buckles, Pinstripe Designs, Piano Trim, and ofcourse the signature S-Class Contrasting Leather with Quilted Stitching. The amount of physical buttons have dramatically decreased due to the new massive 12.8 inch touchscreen featuring HVAC controls. Beautiful yet subtle air vents are seen going through the center of the screen while vertical vents line the dashboard. Speaking of the vents, the 2021 model will have a faster warm up time than ever before due to the booster heater powered by the car's 48V system.
Phones and other small items also have a space behind the screen, while the center console features ample amount of space for whatever else you may need to stow away. There is a new fragrance system too, with scents such as "Bamboo Mood" and "Cotton Mood" so that you can relax when you encounter any pollution when getting closer to New York City. The Digital Instrument Cluster has been advanced as well, featuring a 3D effect included in the 3D Technology Package that allows you to see in a new dimension without even having to go to the AMC movie theater in Commack. This effect can be shut off as well if desired by the driver or passenger.
Navigation in East Northport is now even easier; Head Up Display can now project Augmented Reality onto the road in front of you. For example, if you need to make a right onto Elwood Road in 50ft on your way to Greenlawn, the system will project an arrow onto the road prompting you to take a right. This helps you not miss a single turn on any adventure that you may take your S-Class on in Long Island.
When you may be taking a longer ride, the 2021 S-Class will also feature Energizing Seat Kinetics in both the front and rear seats. This function energizes passengers with a combination of different massage options, sights on the large touchscreen and instrument cluster, ambient lighting options, and even smells that get released from the car as well, helping you stay awake and more alert on your journey. Without the Energizing Seat Kinetics feature turned on, you still have Heated Seats, Steering Wheel, and armrest options available, so that you can stay toasty and warm on those cold Dix Hills mornings. The sunroof is even able to open or close with the wave of your hand, making the S-Class so purely effortless.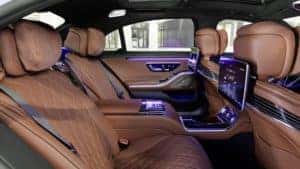 Source: https://www.cnet.com/roadshow/pictures/2021-mercedes-benz-s-class-sedan/30/
We all know that the backseat of an S-Class is just as luxurious as the front. Safety is taken into consideration with new rear seat frontal airbags. With more legroom and even a touch more recline possible, you'll be more comfortable than ever before. It doesn't end there, the headrests even have heated cushions that we can imagine would be so wonderful for those long days when your neck just won't stop hurting. On days such as those, you can drift away and truly immerse yourself into the luxury of the car with the new and optional Burmester 4D Surround Sound System. This system will include 8 resonators and 30 different speakers with metal back lit speaker covers on doors and pillars, one being near the driver's ear to isolate certain infotainment sounds or navigation directions to improve sound quality. Users can create different sound profiles to customize the sound to their own preference, making the experience special to each person.
What makes this a "4D" system though, is the fact that you will be able to feel the music through your seats, an option that can be turned off ofcourse. With the Executive Package in the S580, the backseat of the new luxury car can also have up to three screens equipped with the MBUX infotainment system, two 11.6inch touchscreens on the back of each of the front seats, and one 7inch tablet in the center fold-down armrest with Android technology and even a pair of wireless headphones. The MBUX system on both the front and back tablets is exquisitely unique to Mercedes-Benz.

Source: https://www.cnet.com/roadshow/pictures/2021-mercedes-benz-s-class-sedan/65/
Users will be able to create 7 different profiles for different configurations/preferences such as seat settings, radio presets, speaker settings, addresses, 27 different languages, and more. The system authenticates and recognizes each profile by using voice or facial recognition, fingerprint, or even a PIN. MBUX will also allow you to make commands without saying "Hey Mercedes" such as "Accept call" or "Decline call". Not only can you make commands but the new "Chit Chat" feature will allow for more casual and random conversation, similar to Siri on Apple products. If you thought the new futuristic S-Class couldn't make life any more convenient, you will stand corrected (don't worry, we were caught off-guard too). The system will also include Toll Transponder Integration. All users have to do is put the physical reader (EZ Pass and etc.) into the glovebox and the MBUX system system will read it and be able to translate to sensors. All of this plus a 50% faster processing power, and you have a system that rivals the most advanced technology of recent car releases.
Driver Assistance
The 2021 S-Class will feature an array of different driver assistance programs such as Improved Lane Centering. The unique feature can now follow the road edge instead of just road lines to help you stay centered when driving down the roads of Centerport. Active Steering Assist has also been improved, going up to 130 mph. Adaptive Cruise Control now has an emerging stop maneuver from speeds to up to 80 mph from the previous limit of 35mph. Call that a leap! The S-Class will also feature Predictive Speed regulation while advancements in Blind Spot Assist are showcased with a driver-facing camera that is now implemented in the vehicle. The camera senses and uses intuition when the driver is making specific movements. For example, if you are opening your door to get out into the Walt Whitman Mall, or busy Huntington Village parking lot for the lively nightlife, your car will follow your movements such as your eyes/arms, and body shifting towards the direction of the door, and will activate your Blind Spot Assist warning sooner than usual due to your movements that have been registered.
Your S-Class will now not only use your Ambient Lighting feature to beautifully illuminate your cabin in 64 different colors, but it will also use those same lights (now with more LEDs) to be an integral tool in your safety by using warning colors to flash when you're getting too close to any obstacle. This feature can assist you when using your Active Parking Assist feature with the included 360 degree camera, or even automatic perpendicular and parallel parking. The touch sensitive steering wheel makes using all these additional features even more convenient, because after all, what is the S-Class if not to make your life more convenient, comfortable, stylish, and luxurious?
Whether you choose the S 500 or the S 580 in the first half of 2021, with any type of package, you will experience the epitome of luxury that Mercedes-Benz has spent so much time perfecting and executing in the 2021 model of the S-Class. You won't want to miss the car that will be the start of it all for years to come. To not miss out on a single bit of the 2021 S-Class be sure to keep up with Mercedes-Benz of Huntington on our website MBHuntington.com, our Instagram, or even our LinkedIn, Twitter, and Facebook where our friendly and excited staff will keep everyone updated with all the news of Mercedes-Benz. Is the S-Class too much for you to handle? No worries, we have plenty of both New and Pre-Owned vehicles to find something that fits everybody's cup of tea, whether that be an E-Class, C-Class, or even a G-Wagon. Come on down to our Huntington located showroom to have a look for yourself and we'll be ready to greet you with a smile and maybe even the car of your dreams!
*Information from this article was obtained thanks to Autoblog and Cnet's articles on the 2021 S-Class reveal, so be sure to give their amazing articles a read as well!*