Who is Lewis Hamilton, and Why Did He Get on TIME Magazine's List of the 100 Most Influential People of 2020?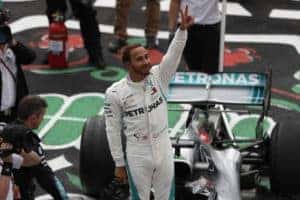 Lewis Hamilton is a name you have probably heard often this year, but who is the man behind the name? Lewis Hamilton is a six-time F1 World Champion British racing driver for the Mercedes-Benz AMG® Petronas Formula One Team. What is Formula One you may ask? For those that don't know, Formula One (F1 for short) is an international auto racing sport. It is the highest league of international single-seater auto racing. F1 includes 10 different teams, Scuderia Ferrari, McLaren, Red Bull Racing, Mercedes AMG® Petronas F1 Team, Renault F1 Team, Williams Racing, Haas F1 Team, Scuderia AlphaTauri, Sauber F1 Team, and Racing Point Force India F1. The Mercedes-Benz AMG® team is based in the United Kingdom where Lewis Hamilton is from. 
Lewis Hamilton is 35 years old currently, but began his interest in racing since he was 6 years of age starting with remote controlled cars, and moving on to a go kart after being gifted one from his father for Christmas around the same time. Think about that the next time your son is begging for the tiny yet mighty Hot Wheels toy car at the Target in Huntington Station! Hamilton began karting in 1993 at the Rye House Kart Circuit and won many races there. When he was around 10, Hamilton approached McLaren Formula One team boss Ron Dennis for an autograph. This may seem like nothing integral, but the funny thing is that Hamilton introduced himself to Dennis and told him that he had won the British Championship and would one day like to race for the F1 McLaren Team. Dennis told him to phone him after nine years and they would see what would happen. Hamilton's wish came true. After winning an additional Super One series and his second British Championship in 1998, Ron Dennis fulfilled his promise and contacted Hamilton to join the McLaren driver development programme. Hamilton became the youngest driver to secure a contract with the included option of a future Formula 1 seat in 2000, and he became the European Champion with maximum points.
After time moving up through the ranks such as Manor Motorsport and then British Formula 3, with wins such as the Marlboro Masters of Formula 3 at Zandvoort, and fifteen out of twenty wins at the Euro Series champions ASM for the 2005 season, he then moved on to winning the GP2 championship at his first attempt beating competitors like Nelson Piquet Jr., and Timo Glock, and even winning at the notorious Nurburgring track as well. Hamilton was always succeeding despite his unusual circumstances in each race. McLaren took notice of his success and Hamilton was confirmed as the team's second driver after Juan Pablo Montoya left to compete in NASCAR and Kimi Raikkonen to Ferrari. Lewis Hamilton was finally competing in the big leagues.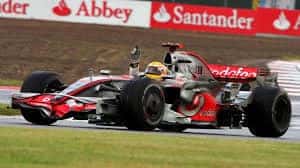 Hamilton's first season in F1 as a driver for McLaren in 2007 proved to be very successful. He set multiple records such as most consecutive podium finishes from debut, the joint most wins in a debut season, and the most points in a debut season. His successful first season allowed him to receive a multi-million pound contract to stay with McLaren until 2012. In 2008, Hamilton became the youngest F1 World Champion in history after winning in Brazil. The UK also hadn't won a world championship since 1996 by Damon Hill. In 2011, Hamilton was loved by so many that he even played a cameo in Disney Pixar's "Cars 2" as an animated racecar. By the end of 2012, Hamilton had announced his move to join the Mercedes-Benz team to replace retired Michael Schumacher for the 2013 season.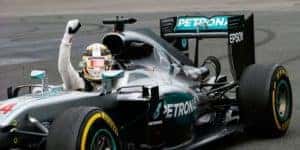 As we know, Hamilton has found great success with the Mercedes AMG® Petronas F1 Team to this day. In his first season he won the Hungarian Grand Prix by 11 seconds. The start of the 2014 season began a new era of success for the young and ambitious driver. He won 11 races to receive his second driver's championship preceding his third driver's championship in 2015. Lewis Hamilton alongside childhood friend Nico Rosberg allowed Mercedes-Benz to achieve the F1 Contructor's Championship. After winning yet two more driver's championships in 2017 and 2018, Hamilton's tally count was set at five. This is the second highest championship total in F1 history. In 2019, Hamilton conquered his sixth win, setting him on track to join Dale Earnheart Jr, Jimmie Johnson, and Richard Petty, and Michael Schumacher on 7 season titles, a magic number in racing according to NASCAR driver Bubba Wallace in his guest written excerpt on Lewis Hamilton. But can Lewis Hamilton beat Michael Schumacher and his record? Many believe so with his history of triumphs, but we will have to wait and see what the future holds in store for the enthusiastic racer.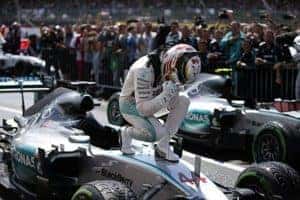 Wallace's excerpt on Hamilton gives insight as to why Lewis Hamilton was included on TIME Magazine's list of The 100 Most Influential People of 2020 along with the likes of athletes Naomi Osaka and Allyson Felix . According to Wallace, other than his success, Lewis' example as the only black F1 driver inspires many people such as him, the only black driver in NASCAR's top level, to keep pushing for representation and diversity, which makes it no wonder he was placed in the "Titans" category with icons such as NFL quarterback Patrick Mahomes, Gabrielle Union, Dwayne Wade, and Sundar Pichai . Lewis has also been a major visual part of the Black Lives Matter Movement following the death of George Floyd and Breonna Taylor, and has been vocal about the subject on his social media accounts (@LewisHamilton on Instagram and Twitter),  and even at F1 events. Lewis' feverish attitude towards bettering himself and educating others around him has led to his ultimate success as a racer and even just as a person.
Additional Fun Facts:
Why is Lewis Hamilton #44? : Lewis favors the number so much that he decides to use it instead of #1 like most people would want in the racing league on his car.
Where is Lewis Hamilton's parents from?: Lewis' mother is white British, and his father identifies as black British. Both are from Stevenage, Hertfordshire, England. He identifies as black due to his mixed race.
Where is Lewis Hamilton from Cars 2? : Lewis Hamilton is seen as the yellow and metallic black car representing Great Britain in the World Grand Prix.
What's Lewis Hamilton's net worth?: Due to his massive success, he is worth a whopping $285 million.
Hamilton truly exhibits "The Best or Nothing" Spirit, which is why he is so suited to race for Mercedes-Benz, and why those in Huntington, Commack, East Northport, Centerport, Brentwood, and surrounding areas love to come into our dealership and find out more about him from our knowledgeable staff, or even pick up pieces of Hamilton's merchandise like T-Shirts or even decals for young ones from our Parts Boutique to appreciate his success. Come and visit us today at our Huntington luxury Dealership located close to the Stop & Shop in Huntington Station, Spuntino's in Dix Hills, Whole Foods in Commack, and the Walt Whitman Shops /Mall,  to see why Lewis Hamilton has let Mercedes-Benz represent him and his legacy for so many years of his career! With amenities for you to enjoy while you wander around our dealership like Starbucks coffee in our lounge, you won't even have to make your way all the way over to East Northport for your coffee fix. At Mercedes-Benz of Huntington, you'll feel just as special as Lewis Hamilton!