What's NEW in the 2021 GLA?
Recently, Mercedes-Benz of Huntington received the newly redesigned GLA, which was featured on our Instagram. The new variant of the model instantly appears unique in comparison to the previous version, not only in its styling, but also its size. In fact, the new GLA is noticeably taller, towering above its predecessor. This increase in height offers much more headroom to its passengers as well as improved visibility. In addition, the new GLA also has a longer wheel base and more legroom in the rear. Other than its size, what other new features has Mercedes upgraded in the new GLA?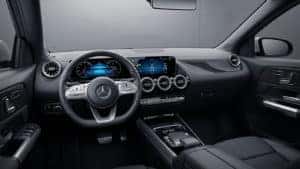 The new 2021 GLA employs the new MBUX infotainment system which is also included in other new Mercedes models. This new MBUX system, explained in our last blog, also uses artificial intelligence to make the user experience even more intuitive. This system is displayed on a pair of 7 inch screens which replace the analog gauges and media. The screens are also available in a 10.25 inch option. On the road, MULTIBEAM LED headlights with individually controllable LEDs lead the way. The face-lifted GLA also improves upon safety and security features. These include sensors which indicate when it's safe to change lanes as well as adaptive cruise control which can help steer for exits. The cellphone app "Mercedes me connect" enables users to remote-start, lock, and even book service appointments for your Mercedes.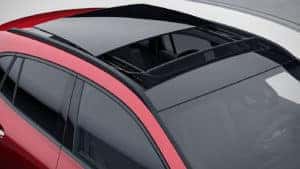 On the exterior, the new GLA is topped with a two-section panoramic roof, brightening the interior and offering maximum views. Meanwhile, under the hood, the GLA 250 is powered by a 2.0L 221 horsepower turbocharged engine with an 8-speed transmission, as opposed to the 7-speed on the previous version. With its higher seat position and more spacious interior, the GLA makes for a car that feels bigger, but still fits comfortably on city streets. The newly designed 2021 GLA is a fresh take on the model, adding to Mercedes' already varied line-up of compact SUV's.
Interested in test driving the 2021 GLA near Dix Hills, New York? Contact Mercedes-Benz of Huntington to be put in contact with a sales representative.