Have No Fear! Mercedes-Benz Roadside Assistance is Here!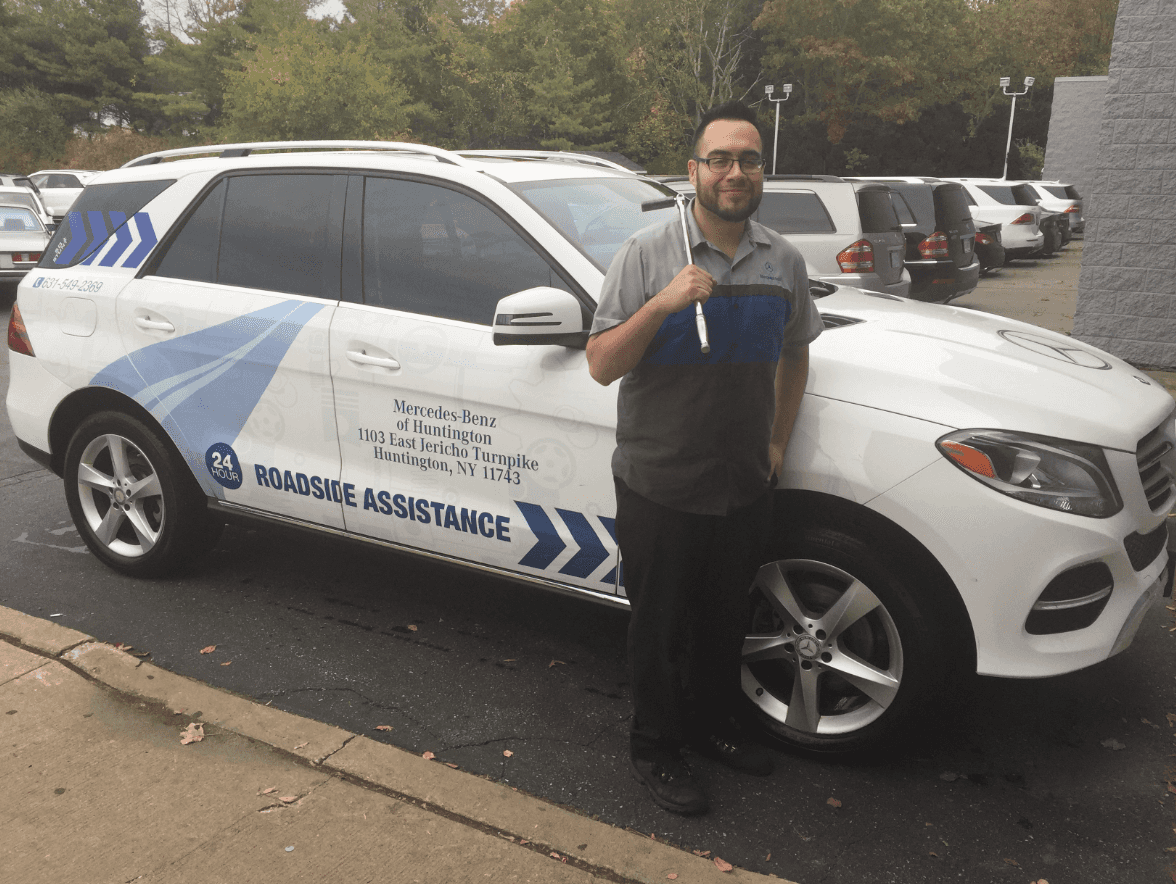 As we start the month of November, we also come closer to the start of the crazy, but fun holiday seasons. With Thanksgiving right around the corner practically, and the December holidays only just a month away, these next few months will have many people traveling short and long distances to spend time with family and friends. With so many people hitting the roads with their Mercedes-Benz's, sometimes the unexpected can happen. A flat tire, dead battery, or even accidentally locking yourself out of your car – you name it. While these are things we all hope doesn't happen in your travels, in the event that it does Mercedes-Benz Roadside Assistance is always available to assist you!

One of the many things that sets Mercedes-Benz apart from other brands is our "on-call" Roadside Assistance available 24 hours a day! To further set ourselves apart, our Roadside Assistance program dispatches certified Mercedes-Benz Technicians to assist you. This is a standard of Mercedes-Benz that stands us out completely from other luxury car brands.

Mercedes-Benz also makes it very convenient and easy to contact Roadside Assistance. One of the primary ways to contact roadside assistance is to dial 1-800-367-6372. This is the main Roadside Assistance 1-800 hotline. Should you call, you will be asked the following information:
1. Your Name
2. Vehicle Identification Number
3. Year, Model, and Color of Vehicle
4. Telephone Number Where You Can Be Reached
5. Disabled Location of Vehicle
6. Description of Problem
Also, if you have an mbrace® subscription, you can push the Wrench Button on the overhead of your vehicle, and you will be connected to anmbrace® operator, who will transfer you to a Roadside Assistance Representative for further assistance.mbrace® will automatically send the Roadside Assistance Representative information about your vehicle type as well as your location. With thembrace® subscription, you can also contact Roadside Assitance through the Mercedes me app on your smartphone. With Mercedes me, you can also contact your local authorized Mercedes-Benz dealer, or look up authorized Mercedes-Benz dealers in the area should you be away from home.

Certain eligible Mercedes-Benz customers can also receive complimentary Roadside Assistance at no additional cost. The eligibility is as follows: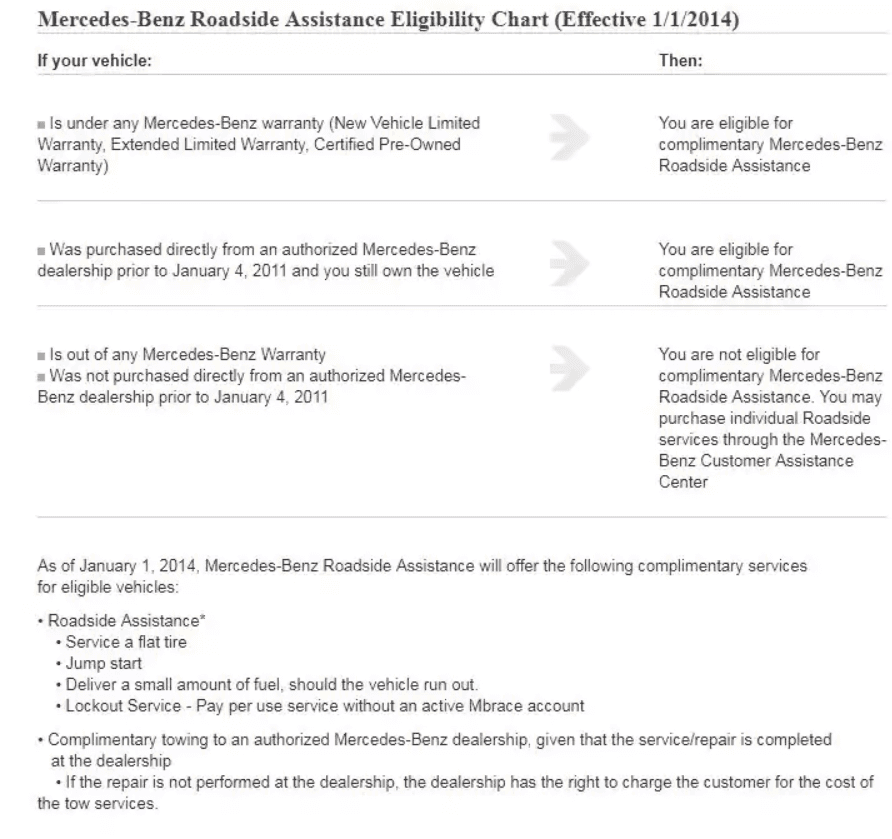 Also, as an added convenience to Mercedes-Benz customers as of January 1, 2011, our Roadside Assistance Program includes free towing to the nearest authorized Mercedes-Benz dealership, such as Mercedes-Benz of Huntington, for all eligible Mercedes-Benz customers who experience a mechanical issue or are involved in an accident. Free towing was formerly provided only for repairs covered under warranty. However, your vehicle must have been regularly serviced at an authorized Mercedes-Benz dealership prior to contacting Roadside Assistance.

Mercedes-Benz Roadside Assistance helps you when you need it the most. Whether its changing or repairing a flat tire, performing a jump start due to a dead battery, or providing a few gallons of gasoline if you accidentally run out, Roadside Assistance is always available to assist our loyal Mercedes-Benz customers. With Roadside Assistance being on your side, you can travel with confidence and ease these next few upcoming holidays, and always get where you need to go.