Mercedes-Benz COVID-19 Process
COVID-19 has had a huge impact on how we go about our everyday lifestyles. Our Mercedes-Benz dealership has taken many precautions in order to protect and maintain the health and well-being of our employees and customers. Our Sales, Service, & Parts Teams are still available to assist you. Continue reading to learn more about the adjustments our dealership has made at our Sales & Service Center in response to COVID-19.

Mercedes-Benz of Huntington – Our Response to COVID-19
Our Sales Showroom is currently OPEN! We are adhering by all CDC Guidelines & practicing safe, social distance always. We are also still offering FULLY-REMOTE Sales Transactions & Deliveries for anyone who prefers not to leave their home.
Please feel free to explore our expansive inventory of New & Pre-Owned vehicles through our online showroom. Our Sales Team is able to assist you whenever you are ready & they are fully prepared to answer any questions or concerns you may have.
Sales Department Procedures
How are the cars getting prepped for delivery? Our Delivery Preparation Department is fully-trained to adhere by CDC Guidelines to prep all vehicles prior to delivery. Each & every vehicle is fully-sanitized & thoroughly inspected before being presented to you.
What are the processes for delivering a fully clean and sanitized vehicle?  Your vehicle is thoroughly washed, wiped down, sanitized, & immediately stored in a safe, disinfected area to await your arrival. All touch-points are wiped down with disinfectant spray, keys are stored in Ziploc bags until you receive them, & both steering wheel & seat covers are provided. You can be confident that you are entering a safe, disinfected vehicle when you step foot into your new Mercedes-Benz!
What steps are being taken to maintain compliance with the NYS policies on remote sales? We are taking all NYS policies extremely seriously. Our staff has been highly-trained to professionally follow all CDC guidelines & procedures to ensure a seamless, almost contact-less vehicle buying & delivery process.
What are the processes for ensuring all documentation is compliant and identities are verified? We pride ourselves on following all compliant guidelines, past & present. Our staff is following the same guidelines that are already in place to meet compliance standards.
What are your processes and policies for off-site deliveries? Our customers have the choice between an off-site delivery to your home, or an on-site delivery outside of our dealership, at a social distance. Customers and Sales Staff are given the option to remove their face mask two weeks following their vaccination. Although this option is given, we also ask our staff members to follow any procedure that makes our customers feel most comfortable. Therefore, you may ask any Sales Consultant or staff member to kindly wear a mask, and we are happy to oblige! At no time will social distancing not be met. We have created a flawless process to ensure this can be achieved.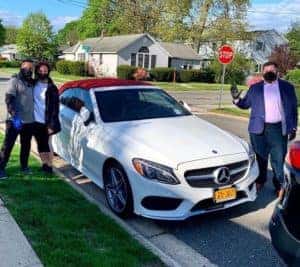 How far will you go to deliver me my new Mercedes-Benz? For the time being, we are granting deliveries to any customers located in Suffolk County, Nassau County, & Queens. For additional areas, we are considering deliveries on a case to case basis. Our Sales Management staff has been extremely helpful during this time & are willing to go the extra mile for our customers, both near & far.
How can I return my Mercedes-Benz Lease? We are accepting lease returns by appointment only Monday- Friday. Please contact us to schedule a Lease Return appointment at your earliest convenience. You can call us at 631-486-0158 & a Sales Manager will schedule your appointment & answer any questions you may have.
Service Department Procedures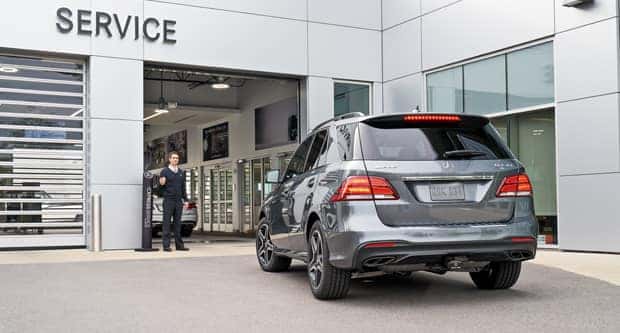 As an essential business, our Service Department is open Monday – Saturday & adhering by all CDC Guidelines & taking all precautions necessary. We are taking our new procedures seriously & ensuring everything is being done to preserve the health & well-being of both our customers & our employees during this time.
We have developed extensive cleansing processes & our employees are highly trained on how to conduct safe handling of all documents, tools, & vehicles- and how to maintain a healthy social distance during all necessary transactions.
Vehicle Cleansing Process
What is done to protect my Mercedes-Benz vehicle from contamination when it is brought in for service? Our Valet Staff is fully-equipped, wearing gloves & masks at absolutely all times. Keys are collected in a Ziploc bag & disposable seat & steering wheel covers are installed right away. Vehicle shift handles are covered with bags as well, so you can be confident no touchpoints are shared between you & our workers. Even so, all touchpoints are wiped down both before your vehicle is handed over to us & before we present your vehicle back to you.
What is the process while my vehicle is being worked on and moved around facilities? All Technicians, Valet Attendants, and Car Washing Staff are wearing disposable gloves, masks & are highly-trained to follow all our procedures & adhere to CDC guidelines. All touchpoints are covered & wiped down both before & after.
What is the process when the  Mercedes-Benz vehicle is returned to me? Your vehicle will be put through our professional car wash & then wiped down & thoroughly sanitized before being returned to you. A new steering wheel cover & seat covers will be applied for you. You can be confident that your vehicle is free of germs & returned exactly how you brought it to us – except much cleaner! 🙂
What is the cleansing process for  Mercedes-Benz Loaner Vehicles before being given to a customer? All loaner vehicles are deep-cleaned & disinfected using a strong disinfectant spray on all touchpoints & put through our professional car wash to ensure full sanitization. Keys are kept in a Ziploc bag while awaiting your arrival & a disposable seat cover & steering wheel cover will be presented & applied before your arrival.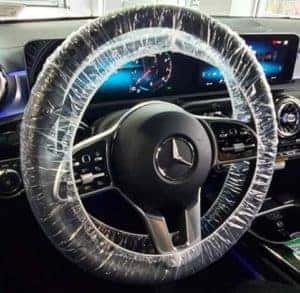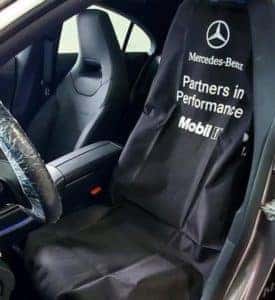 Service Document Processing Process
Has the vehicle write-up process been altered at all during this time? Yes. We've been adapting to a contact-less write-up process for the safety of both our employees & our customers. Our Service Advisors & Service Cashiers are seated behind strong, Plexiglas barriers to limit any unnecessary contact.
What documents need to be signed on-site & what can be done remotely/electronically? Customers are now welcome to opt-out of signing their Repair Orders due to COVID-19. The only document that would need to be signed is a Loaner Agreement if the customer chooses to borrow one. This agreement can be signed electronically though, to still avoid any contact.
What needs to be signed and processed to borrow a Mercedes-Benz Loaner Vehicle? We require your signature when borrowing a Mercedes-Benz Loaner Vehicle,  but this can be signed electronically. We will send you your Loaner Agreement to your cell phone, where you can sign on your phone using your finger. We do require a valid license, insurance card, & credit card when borrowing a Loaner Vehicle due to state laws, but the transmitting of these documents is done very carefully. Gloved & masked Service Advisors have been extensively trained on how to best limit direct contact & keep the required 6 feet distance at all times.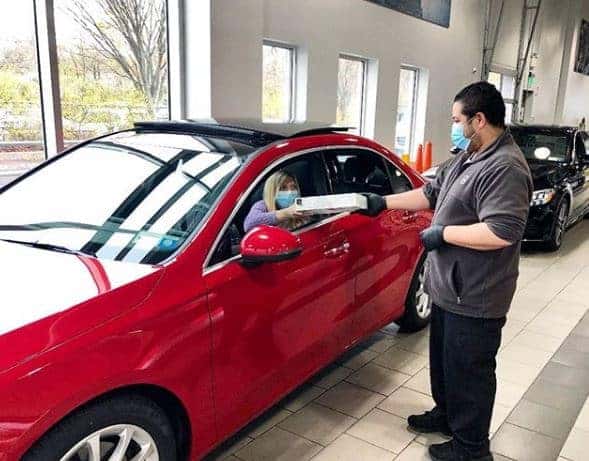 On-Site Vehicle Drop-Off and Vehicle Return
What is the Mercedes-Benz Service scheduling process?  Our Service Coordinators are handling all service appointment inquires as usual. You may schedule your appointment online using our Service Scheduler or you can call one of our Service Coordinators at 631-549-2125. If you'd like to request a Pick-Up & Delivery Service, or a Loaner Vehicle, you must call our Service Coordinators directly. We don't accept those requests online.
What should I expect when I drop off my Mercedes-Benz car? Customers are greeted by our Service Valets a 6-foot distance, wearing maks & gloves at all times. A gloved & masked Service Advisor will do a quick walkaround of your vehicle in our Service Drive.  All Service Advisor desks have signage regarding & requiring social distancing & desks are covered by Plexiglas barriers. Floors are marked with tape indicating a safe, 6-foot distance standard.
What is the "Curbside" process? Customers are given the option of dropping off the car and using a drop-off envelope to eliminate any contact with our staff. An exterior drop off box is isolated and located outside of the building.
Off-Site Pick-Up and Delivery
What is the scheduling process? Our Service Coordinators are handling all requests for pickup and delivery and coordinating with the drivers.
What should I expect when the driver arrives at my home? A gloved & masked Service Attendant will arrive at your home to pick-up your vehicle. Keys are transferred in Ziploc bags & customer information is already collected in advance to limit contact.  All interaction will be done outside of the pickup location, at a safe, social distance.
What is the procedure for loaners dropped off at my home? Clean & sanitized loaners are delivered by masked and gloved drivers. You will find protective items such as a steering wheel cover & seat covers in place, that were applied by the driver before the loaner vehicle is presented to you. You will find keys in a safe & secure Ziploc bag.
What is the document processing for my finished car being returned to me?  Your vehicle will be clean, sanitized, and delivered by one of our masked and gloved drivers. Payment is collected in advance to limit contact & loaner agreements will be signed electronically.

Why Choose a New Mercedes-Benz from Mercedes-Benz of Huntington?
Here at Mercedes-Benz of Huntington, we offer luxury-grade service, and if you are too busy to come to our showroom, we will bring a vehicle to your Huntington-area home or office to test drive on your schedule. Additionally, you benefit from the following:
Rotating Mercedes-Benz incentives
Experienced service technicians
Genuine Mercedes-Benz parts
The knowledge of our tech-savvy Product Concierges
Our sales team is standing by to get you behind the wheel of the model that best suits your budget and driving needs in the Cold Spring Harbor area, and it's their goal to make the car-buying process that much less stressful. Contact us today to get the process started.