The 2020 Mercedes-Benz EQC: What To Expect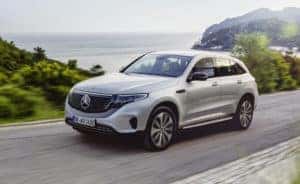 In the growing age of electric transportation Mercedes-Benz has yet again driven us to delight with the brand new 2020 EQC. This compact SUV seats five and pays homage to the body style of the GLC you may have seen in our Huntington dealership. This electric powered vehicle is quiet, yet provides the acceleration that many electric SUV purchasers in the Elwood and Greenlawn area are looking for. Not only is this SUV beautiful on the outside, but the inside is truly luxurious as well. With modern features such as high gloss plastics, and new textiles, you just can not go wrong!
Clean Power
The brand new EQC features two electric motors powered by a lithium-ion battery. Environmentally conscious consumers can rest easy knowing that although this car runs electrically, it does not lack in power. The powertrain delivers an output of 402 horsepower and 561 lb-ft of torque. The advanced vehicle also features compact electric drivetrains at each axle, giving it the sporty characteristics of all-wheel drive vehicles that we know and love. With all this power it's no wonder that the EQC is estimated to make the sprint from 0 to 60mph in 4.8 seconds. Not only is this electric vehicle strong and fast, but it is convenient as well; charging from 10 to 80 percent can take as little as 40 minutes.

Design
Keeping with the Mercedes-Benz legacy, the 2020 EQC is modern and sleek, without taking away from it's luxury. It features a sunroof standard to all vehicles, letting in the natural sunlight of wherever the road takes you. For not so sunny days, the vehicle features LED headlights along with it's grille design on the sleek black-panel surface on its front. To add to the beauty of the face of this car, the black-panel surface is accentuated by an LED Light Band at the top. 
If you thought the innovation of the EQC design ended there you will be greatly mistaken upon seeing the stunning interior! The interior features an asymmetrical cockpit keeping the driver feeling in complete control of such a powerful vehicle. Also featuring rose gold accents, the interior is truly unique. Technology doesn't seem to come after aesthetic when it comes to the EQC. Technology in this vehicle includes the outstanding Mercedes-Benz User Experience (MBUX) system with Natural Voice Control multimedia system based on artificial intelligence. Not only will you get the MBUX system but you will also be equipped with standard smartphone integration (Apple Carplay, & Android Auto), a digital widescreen cockpit with a 10.25" instrument cluster and multimedia touchscreen, LED Intelligent Light System Headlamps, available ambient lighting, and available AMG packages. 
Stunning and advanced, the 2020 Mercedes-Benz EQC has surmounted our wildest expectations for an electric vehicle. Boasting two powerful motors while not compromising on speed or performance, users can truly experience the best of both the worlds of luxury and environmental consciousness. 
Interested in experiencing an EQC on your own? Keep following us for updates on when the 2020 EQC will make its way to Mercedes Benz of Huntington so you can drive it around your favorite Greenlawn and Huntington spots! In the meantime contact our Sales Department at (631) 486-0158 for all of your car purchasing needs!