Sir Stirling Moss, The Uncrowned King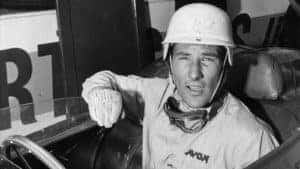 If you know anything about racing, chances are you've heard the name Sir Stirling Moss more than just a couple of times, but who is he really? 
The late Sir Stirling Craufurd Moss was one of the greatest British Formula One race drivers of all time, even though he had never won the World Championship. Winning 212 out of his 529 races, including 16 Grand Prix victories, it's no wonder that he was inducted into the International Motorsports Hall of Fame. 
Moss's interest in racing began when he was a young boy in London. Being born on September 17th, 1929, he was too young to enlist in World War II, but he was at the optimal age to participate in the renaissance of British race car driving. Racing seemed to run in the family, as Alfred, Moss's father also raced cars as a hobby and even placed 14th at the Indianapolis 500. His mother Aileen on the other hand, did not seem to share the same interest in racing cars. Alfred's career as a dentist left the family well-off, making them able to support young Moss's need for speed. As a little boy, his father's BMW 328 sports car was the car that started The Moss legacy. He would enter any race that he possibly could with his father's car, and would later upgrade to the first open-wheeled Cooper 500's. Out of the 15 races he entered across Europe in his first year, he won 12 of them. These victories led him to join the H.W.M factory Formula 2 team, and he gained success almost instantly. After winning the 1949 and 1950 Formula 2 championships, he knew he had to hire a manager to help him control the success and opportunity he saw in the near future.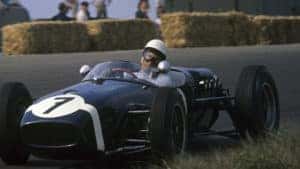 Moss was irrepressible. Using past bullying to motivate him to be better, Moss did things that many would not dream of doing. Known to have raced in a Jaguar XK120 in torrential rainstorm while in Ireland, he was truly uncontrollable in doing whatever he pleased, and did it well. His appealing personality of being honorable, by vouching for his rival against disqualification of a race, charismatic, by inviting writers and reporters into his home, and daring, by racing in the most rough conditions, even earned him the title of Sports Personality of the Year in 1961. After spending some time in Formula 2, Moss quickly moved up the ranks to participate in Formula 1 by 1954. 
During that year, Moss became the first non-Americans to win the 12 Hours of Sebring race in Florida by beating his bigger and faster opponents vehicle's like Ferraris, Lancias, and Aston Martins.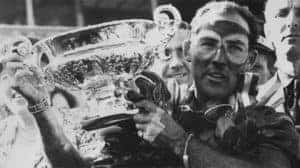 In 1955, Mercedes-Benz picked up Moss and debuted him as their newest racer at the Argentina Grand Prix that January. Moss won his first Formula 1 victory in the sixth race of that season. Mercedes-Benz picking up Sir Stirling Moss, quickly pushed him further and further into the spotlight. He was only 25 at the time of one of his most famous victories, the 1955 Mille Miglia. This race took place over 922 miles of Italian countryside, and Moss completed the race with co-driver Denis Jenkinson in a span of 10 hours, 7 minutes, and 48 seconds, with an average speed of 98.53 mph. What stood out about this particular race was the fact that Moss finished in first place 32 minutes ahead of his second place teammate Juan Manuel Fangio.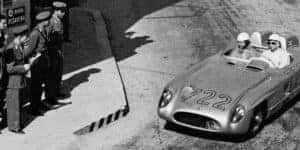 This race was so legendary that Mercedes-Benz created the SLR McLaren 722 in homage to Sir Stirling Moss, and the Mercedes-Benz 300 SLR that he drove during the race. The 722 in the nameplate signifies the starting number of Moss and Jenkinson, indicating a start time of 7:22AM. To this day, only 150 units of that model were created all over the world, with only 25 in North America. Each is valued to be over $1million. Those that work at our Huntington dealership or follow our Instagram, were lucky enough to see one of these breathtaking cars come into our Service Department today! It was without a doubt, a once in a lifetime experience.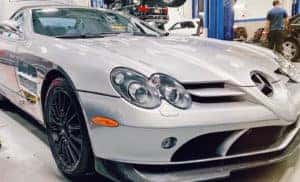 Another prominent win for Moss would be his triumph in the 1957 British Grand Prix at Aintree. This historic achievement led to him and Tony Brooks to become the first British drivers to win a round of the world championship series in a British car. 
After a series of unfortunate accidents, Moss effectively retired in 1961, but still made appearances at events, and would occasionally race, officially retiring at 81. Over the span of his career he had won 16 Grand Prix races, competed in 529 races and won 212 of them, an outstanding 40% success rate. 
Despite all his success, circumstances usually seemed to get in the way of Moss and a world championship, resulting in him being called "The Uncrowned King" by Formula 1. For Moss though, a crown was never needed as he continues to have a legacy to this day and continues to inspire many, after unfortunately passing away this April at 90 years old due to illness. His character precisely exemplified what it means to Mercedes-Benz to be "The Best or Nothing".  
Still curious to know more about the great Sir Stirling Moss? Come into Mercedes-Benz of Huntington to have the history of his career and his integral part of the Mercedes-Benz Formula 1 team explained to you by our knowledgeable staff.