Roadside Assistance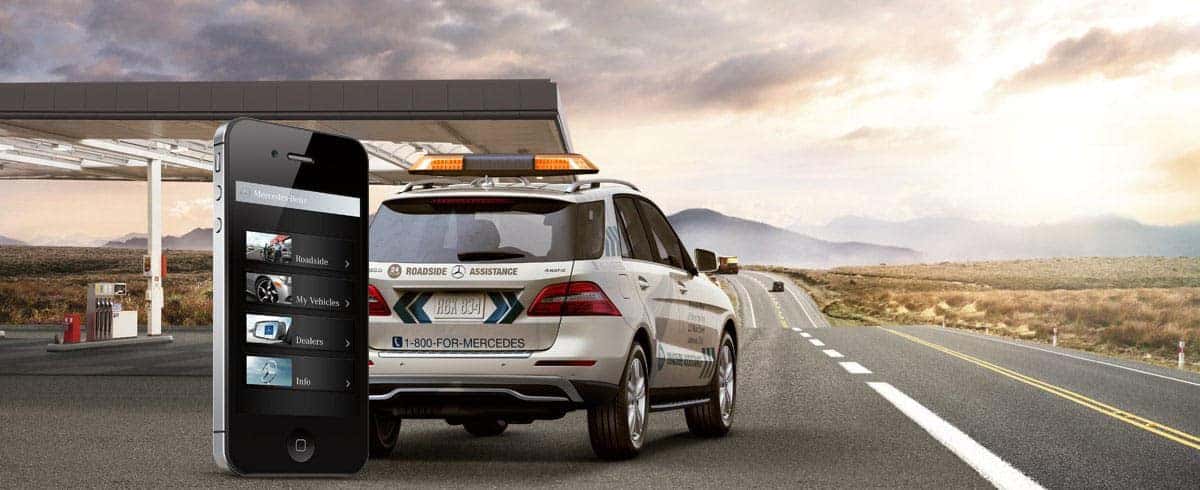 Mercedes-Benz Roadside Assistance Near East Northport, NY
Whether it's replacing a flat tire, delivering a jump start, or providing fuel should you accidentally run out, Roadside Assistance can provide help when you need it most, 24 hours a day, 7 days a week. Now there's an even easier, more convenient way to get the service you need when you're on the move. With the complimentary Mercedes me app, you can quickly contact Roadside Assistance to alert them of any issue you're having. Plus, it's GPS-enabled to identify your location, and has a tracker to let you know when help will arrive.
In the event you need to utilize the Mercedes-Benz Roadside Assistance program, a Certified Mercedes-Benz Technician will come to assist you to get you back onto the road. If your vehicle needs to be towed to the nearest Mercedes-Benz Service Center in Huntington, NY, be sure to bring your vehicle to our Service Department, where we have our friendly Service Consultants, state of the art amenities, and award-winning customer service.
How Do I Contact Mercedes-Benz Roadside Assistance?
Telephone:
Call 1-800 FOR-MERCedes (1-800-367-6372). You will be asked for the following information:
1. Your Name
2. Vehicle Identification Number
3. Year, Model, and Color of Vehicle
4. Telephone Number Where You Can Be Reached
5. Disabled Location of Vehicle
6. Description of Problem
mbrace®:
1. Press the Wrench Button* in your vehicle or Mercedes me button (located in armrest or overhead     console).
2. You will be connected with a Roadside Assistance dispatcher.mbrace® will automatically send the dispatcher information about your vehicle type and location.**
3. Describe the problem you are experiencing to the dispatcher.
4. The dispatcher will send appropriate service personnel to your location.
* See your operator's manual for complete instructions.
** Only where cellular and GPS are available.
Mercedes me® Mobile Application (for iPhone® and Android®):
1. Launch the application
2. Login with your Account Number and PIN
(If you forget yourmbrace® account number or PIN. Call the Mercedes-Benzmbrace® Response Center at 1-866-990-9007 or press the i-Button in your vehicle)
3. Touch and click on the Assist button at the bottom of the screen to access Assistance screen
4. Touch or click on the Roadside Assistance button to call Mercedes-Benz Roadside Assistance.
To get the Mercedes me mobile app, choose from one of the links below.