Mercedes-Benz Features To Help You Get Through The Winter Season!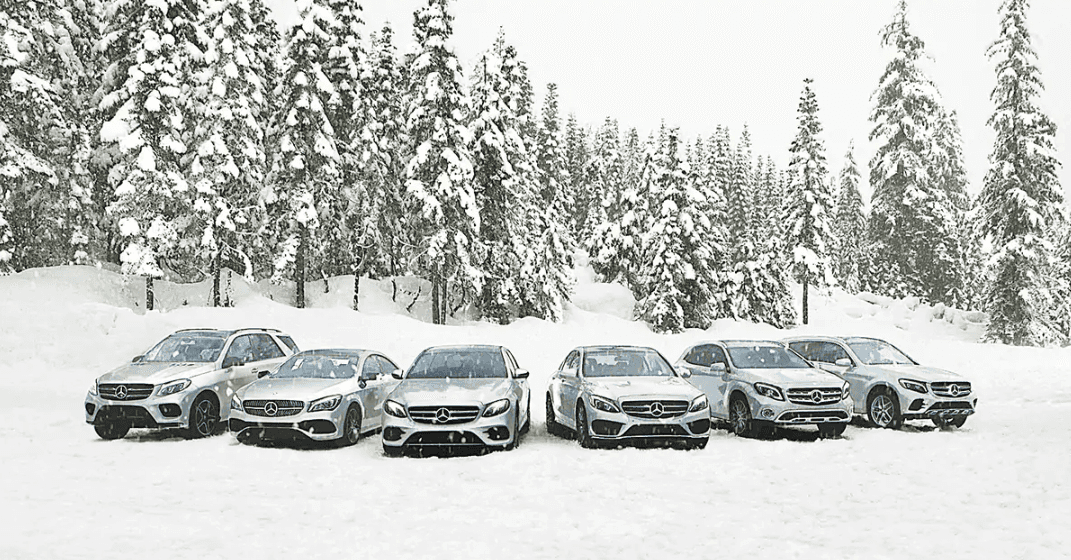 The winter season drastically changes our environment around us. It gets to very frigid temperatures, difficult weather conditions, and not to mention it gets darker out a lot earlier! However, our lives still continue with the winter season and the drawbacks that may come with it, especially in New York. The variety of options and features that are available in many Mercedes-Benz models can make driving in the winter a lot more bearable, and even enjoyable! Therefore, here are just a few of some great available features and options that can be a great asset for getting through the winter season.
4MATIC® All-Wheel Drive
The 4MATIC® all-wheel drive system can be seen as one of the best features to have during the winter months. From a blustery winter storm to a wet rainstorm, 4MATIC® all-wheel drive can handle it all, giving you extra grip on the road ahead of you. 4MATIC® features a number of advanced, and quick-thinking innovations to empower each wheel individually as conditions change, making it easier and safer for you as the driver, to continue on when conditions get tougher. The 4MATIC® system is available on most Mercedes-Benz models, therefore you have a variety of vehicles with 4MATIC® to choose from on your next car purchase!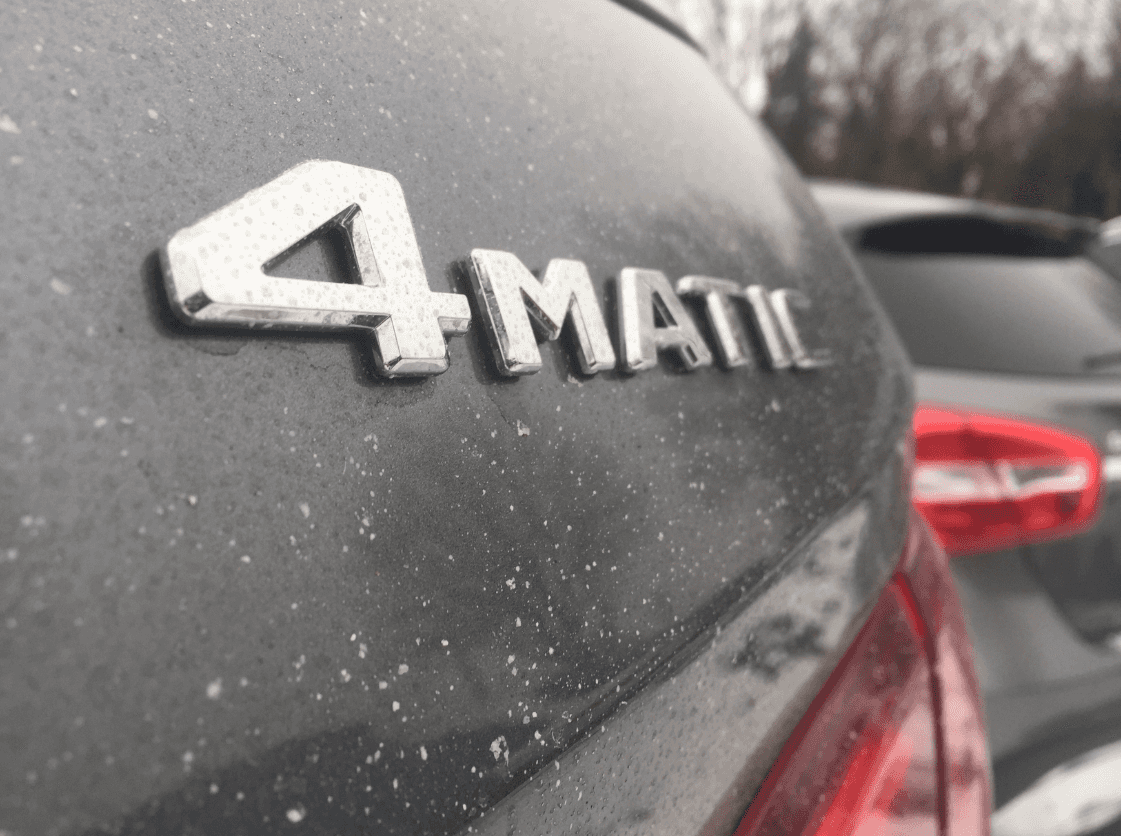 Heated Seats
Picture this. You get in your Mercedes-Benz in the early morning, coffee in hand, ready to start your day. You sit down in the driver's seat and it's chilly from sitting the whole night! Heated seats are what will save the day from sitting in a cold seat. With three levels of warming available, the heated seats feature will take the chill out of any morning. The best part of the heated seats in a Mercedes-Benz is that once the seats are heated, it will automatically step down after several minutes to the lowest setting, keeping you cozy and comfortable on your drive.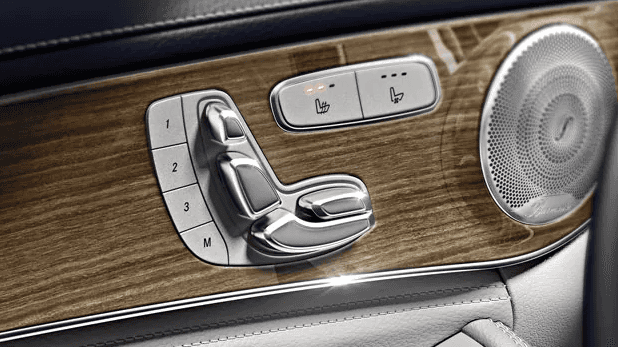 Heated Steering Wheel
The heated steering wheel, like heated seats, is another "handy" feature to keep your hands warm during chilly winter mornings. Instead of trying to maneuver wearing gloves or mittens while driving, you can simply just push the heated steering wheel button to keep your hands nice and toasty while you grip the wheel. Similar to the heated seats, after a few minutes, the heating level is automatically reduced to maintain lasting comfort.
Magic Vision Control
Magic Vision Control changes the way you use your windshield washers, and is an efficient feature to have to clean your windshield during the winter. In the winter season, tons of road debris such as road salt, snow, slush, and much more can end up on your windshield. With MAGIC VISION CONTROL, you can wash away this debris smoothly and efficiently, without splashes of washer fluid getting in the way of your vision. While only available on select Mercedes-Benz models, it is a great feature to consider for the winter. Check out the video below from Mercedes-Benz USA to see how it operates!
Night View Assist® PLUS
During the winter, it gets darker out a lot earlier. Also, it can often seem that it's a lot darker than usual during the winter. With this added darkness, it can be harder to see hazards on the road. However, Mercedes-Benz created a new feature with nighttime driving in mind, called Night View Assist® PLUS. Available on select models, Night View Assist® PLUS can help you navigate the dark road ahead of you, and point out any obstacles that you may come across. Night View Assist® PLUS projects invisible infrared beams and reads them with a special camera. Combined with thermal imaging, the system can display a clearer, supplemental real-time view of the road ahead in the digital instrument cluster. Its advanced technology can also help identify and point out pedestrians and animals along a dark roadway, and help alert pedestrians with a flash of the LED headlamps in their direction!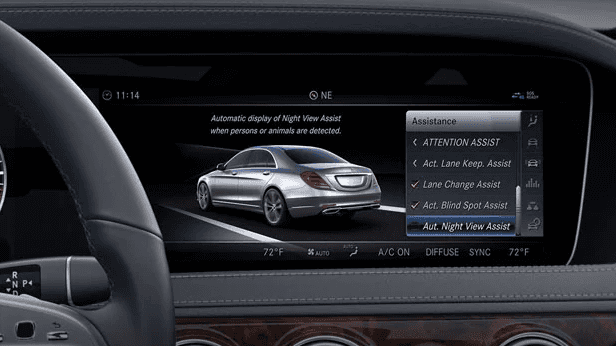 Crosswind Assist
Crosswind Assist is another safety technology from Mercedes-Benz, that is standard on a lot of the larger models. During the winter, and especially during snowstorms, it can get very windy! Crosswind Assist helps your vehicle's stability stay strong during strong side winds at highway speeds. The system helps keep the vehicle on the right track through braking of the wheels on one side of the vehicle.
Dual Zone and 3-Zone Climate Control
Your passengers you have along for the ride should be comfortable too! Many Mercedes-Benz models offer multi-zone climate controls, with Dual Zone Climate Control being standard on many models. 3-Zone Climate Control is also available, so that passengers in the rear of the vehicle can adjust the climate control to their preferred settings. It's a great feature to have during the winter to keep everyone satisfied with the temperature!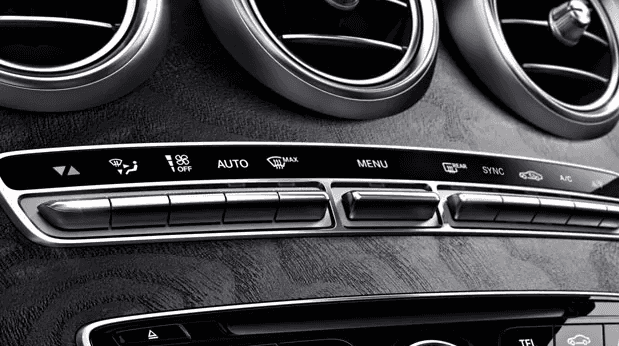 Electronic Stability Program (ESP®)
An important safety feature for the winter would be the Electronic Stability Program, or also known as ESP®. ESP® is a standard feature that was first introduced by Mercedes-Benz. The system continually monitors your driving inputs and the vehicle's motion to help keep it going in your intended direction, especially in corners and during evasive maneuvers. This is especially helpful in not so ideal winter conditions! If it detects wheel spin, severe understeer (plowing), or oversteer (fishtailing), ESP® can brake individual wheels and reduce engine power to help bring the vehicle under control. The ESP® program, like many of the other safety programs that are built into Mercedes-Benz models work to keep you and your occupants safe in all the roads that you travel.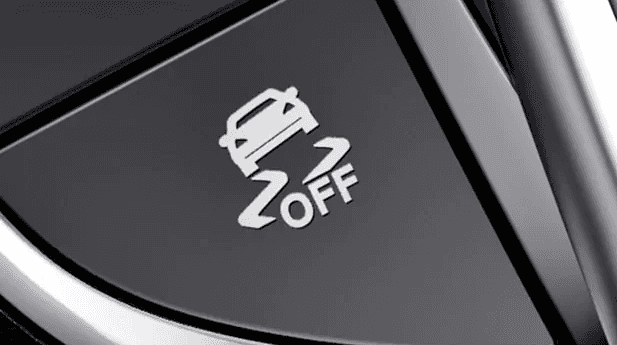 Brake Assist (BAS®)
Brake Assist, which is also known as BAS®, senses emergency braking via the speed at which the driver presses the brake pedal, and immediately applies maximum available power boost. Brake Assist decreases your stopping distance by applying emergency power to the brakes, that may not have been applied enough when braking. This is a standard safety feature across all models, and is a great feature to have in the winter when you may need to brake suddenly due to hazards on the road.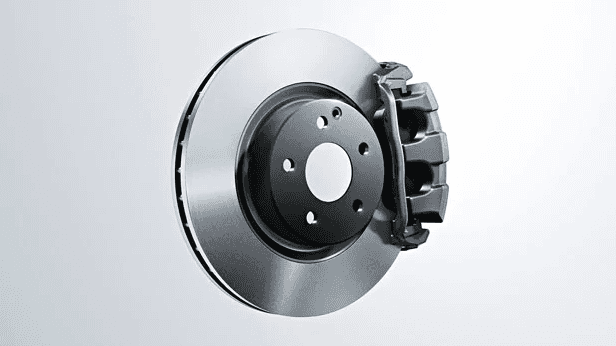 Active Brake Assist
Active Brake Assist takes Brake Assist a step further. Active Brake Assist uses radar technology to sense obstacles or hazards in the way that you may not realize. The system alerts you hazards you are approaching, at a speed and distance that suggest a collision is likely. As soon as the driver starts to brake, Active Brake Assist can automatically provide an appropriate level of braking to help prevent a collision or reduce its severity. If you fail to brake in time, the system can also initiate braking automatically from speeds up to 65 mph. Paired with the Brake Assist System (BAS®), your Mercedes-Benz and the systems that come with it will work hard to make sure you come to a safe stop when coming across winter road hazards.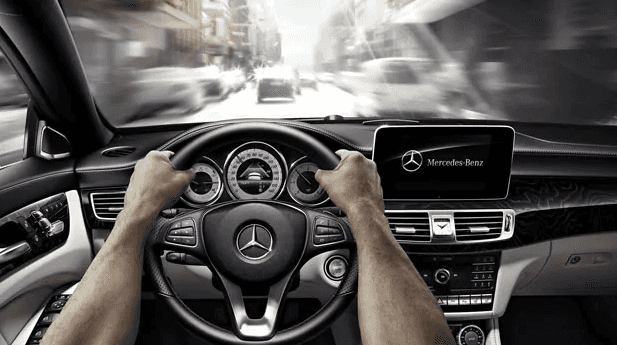 As shown, Mercedes-Benz vehicles have a ton of features to make driving in the winter season enjoyable and safe. After all, Mercedes-Benz only provides the best or nothing! Come find out more about these features and others today, by visiting our showroom or giving us a call at 855-777-9693.