Mercedes-Benz European Delivery Program
Experience your new Mercedes-Benz where it was born.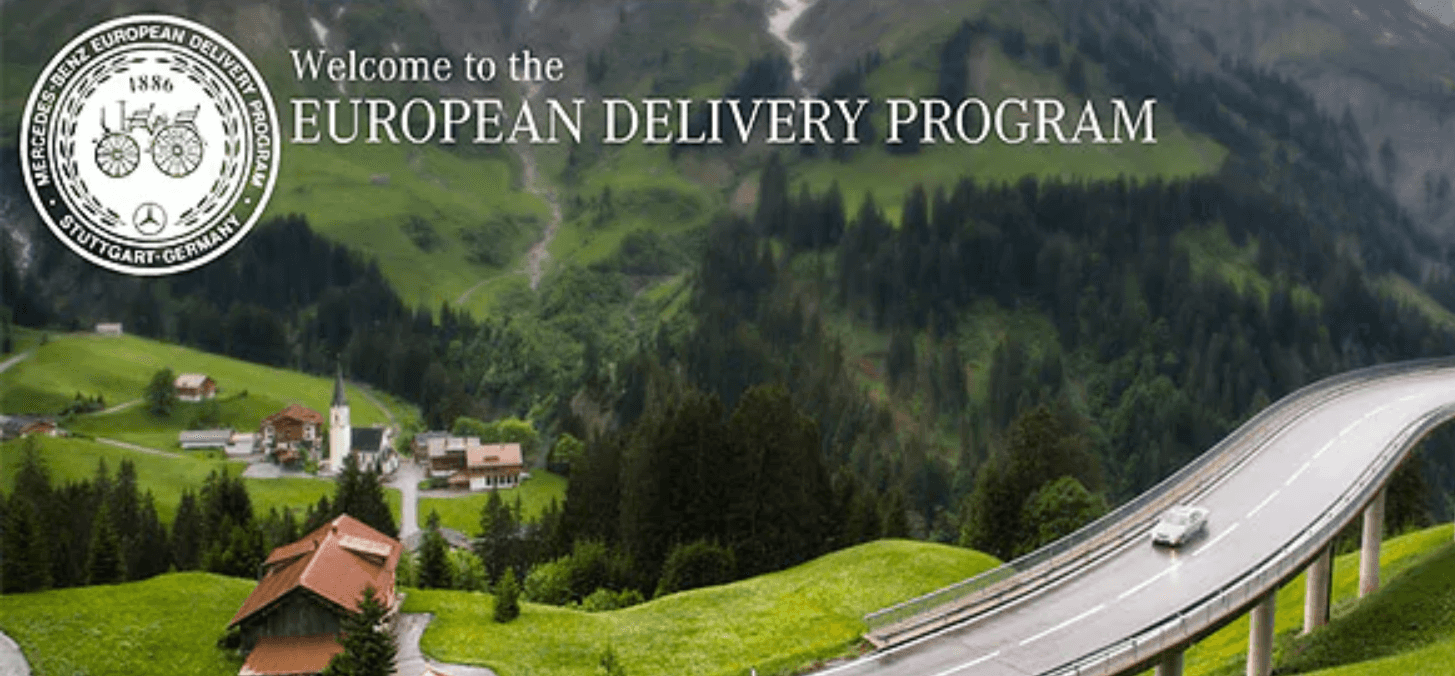 Buying a brand-new Mercedes-Benz vehicle isn't just an everyday occurrence. So why not make the most of it? The soul of a Mercedes-Benz truly reveals itself in its natural environment and birthplace – Germany. You can either wind your way through the snow-capped villages or power your adrenaline on the famous Autobahn – either way, there's no better place to spend your first moments with your beloved Mercedes-Benz than in its own backyard.
Our Dealer Principal, Jim Buzzetta, just got home from his own European Delivery Program just last week! His experience was unimaginable. First, he picked up his stunning S 550 Coupe at the Mercedes-Benz Delivery Center in Stuttgart, Germany. He received a factory tour and got to visit the museum! He then drove his brand-new S 550 Coupe on the Autobahn. He topped out at 133 mph, which is the top speed the vehicle is limited to. He said the car was solid at that speed! That's an amazing Mercedes-Benz vehicle for you. After that, he got to visit Switzerland! He drove the car through small towns and beautiful villages. Most of the streets weren't designed for cars, never mind the S-Class! Finally, he got his gorgeous Mercedes-Benz washed before shipping it home when he dropped it off in Zurich. He explained his trip as an incredible experience of which he would recommend to everyone!
What's included?
Your European Delivery Program starts with professional travel assistance to help you with your hotel and airline reservations, just to make everything as easy as possible for you. Once you arrive in Germany, you'll take a tour of the factory in Sindelfingen. After that, you'll be on your merry way with a full tank of gas, fifteen days of European road insurance, and all vehicle shipping and handling expenses settled all in advance! Once your marvelous driving experience is finished, you simply leave your new vehicle at any one of many designated drop-off points, and you'll be reunited with it once it arrives on the other side of the Atlantic!
Benefits Include:
One night hotel stay in a luxurious hotel in Stuttgart
7% discount on total vehicle MSRP on eligible models
Sindelfingen Factory Tour
MBUSA travel assistance for hotel and airline
Two tickets to Mercedes-Benz Museum
15 days of European road insurance
Breakfast or lunch at the Delivery Center
Vehicle transportation to United States dealer
Two taxi coupons for ride from airport or main railroad station to the Delivery Center or hotel
Marine Insurance
Full tank of fuel
Destination charge is waived
Trip Packages:
Purchasers are free to explore Europe at their own pace, but Mercedes-Benz also offers four exclusive driving packages made for those who prefer to have a more structured plan. These packages include the: Standard Package, Black Forest/Alps Rally Package, Alpen Route Package, and Stuttgart Walking Tour Package!
Standard Package – Includes a one-night stay for two at your choice of selected hotel in Stuttgart, and breakfast or lunch at the Sindelfingen factory restaurant. After, explore a variety of recommended hotels and resorts in Europe's most amazing cities.
Black Forest/Alps Rally Package – A self-guided tour through the Black Forest and through the Austrian Alps. It includes five days on difficult roads selected to bring out the very best in your Mercedes-Benz, with five-night accommodations in a variety of beautiful first-class hotels.
Alpen Route Package – Experience some of Europe's most eloquent and charming villages, lake fronts, and restaurants.
Stuttgart Walking Tour Package – Wander along the Konigstrasse which experiencing world-class art museums. Discover a truly unique European shopping experience. This custom-designed walking tour is your best way to uncover Europe's best kept secret – Stuttgart.
Drop-Off Points & Accommodations:
Choose from the natural majesty of the Black Forest or the celebrated cultural centers such as Munich, Paris, or Vienna. The vast network of hotels and vehicle drop-off points help to ensure that your trip is as convenient and easy as it is memorable!
Once You're Booked:
You've reached the final steps! This is where it all gets exciting and put into motion! Mercedes-Benz will send you a confirmation letter, insurance information, and other helpful travel details once you have completed the registration process! In order to take delivery of your vehicle, you need to present your confirmation letter, your invoice, and your passport!
To learn more about European Delivery, visit your local dealer! We can help you out from planning your itinerary to model eligibility.