Coming Soon: The 2019 AMG® GT 4-Door-Coupe!
Mercedes-Benz is bringing some new models to their vehicle lineup this coming year, and we could not be more excited. One of the most exciting vehicles however, has to be the new 2019 AMG® GT 4-Door-Coupe! Based off of the profound and exciting characteristics of the AMG® GT, this vehicle expands the excitement in a four-door-coupe variant!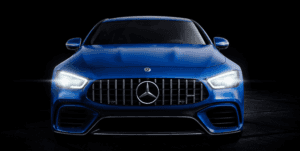 A standard characteristic of any Mercedes-AMG vehicle is the visual appeal, as well as the exquisite performance of an AMG® engine. With the AMG® GT 4-door-coupe, you'll notice the low hood, muscular shape, and flowing overall persona of the exterior. The design of the AMG® GT 4-door-coupe had much thought put into it, with every design cue being a part of highly crafter aerodynamics.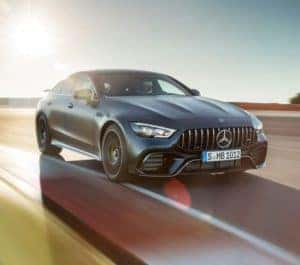 Inside the vehicle, you'll only expect the best. Supreme comfort goes hand-in-hand with luxury, as well as being a modern and exhilarating cabin. On the dashboard, you will see intuitive touch controls as well as a widescreen cockpit which creates a space where the driver is in total control.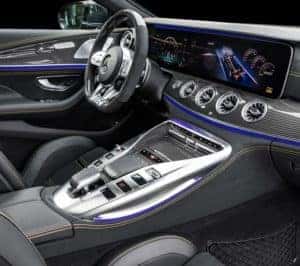 Last, but certainly not least, you will not be disappointed with what is underneath the hood.  The AMG® 4-door-coupe has three different engine options that will be available; two handcrafted AMG® V8 engines for the GT 63 S and GT 63, and an AMG®-enhanced 3.0L inline-6 biturbo with EQ Boost for the GT 53. The most powerful option which is available on the GT 63S delivers 630 horsepower and a maximum torque of 664 lb-ft. The vehicle is estimated to go from 0-60 in 3.1 seconds! You would only expect this exhilaration from a Mercedes-AMG® vehicle.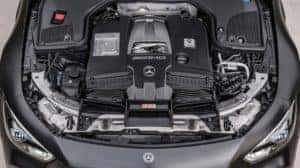 The AMG® GT 4-door-coupe is slated to begin arriving at dealerships toward the end of 2018, and we can hardly wait! We are certain this vehicle will not only be a beauty to have in our showroom, but also parked in your driveway!