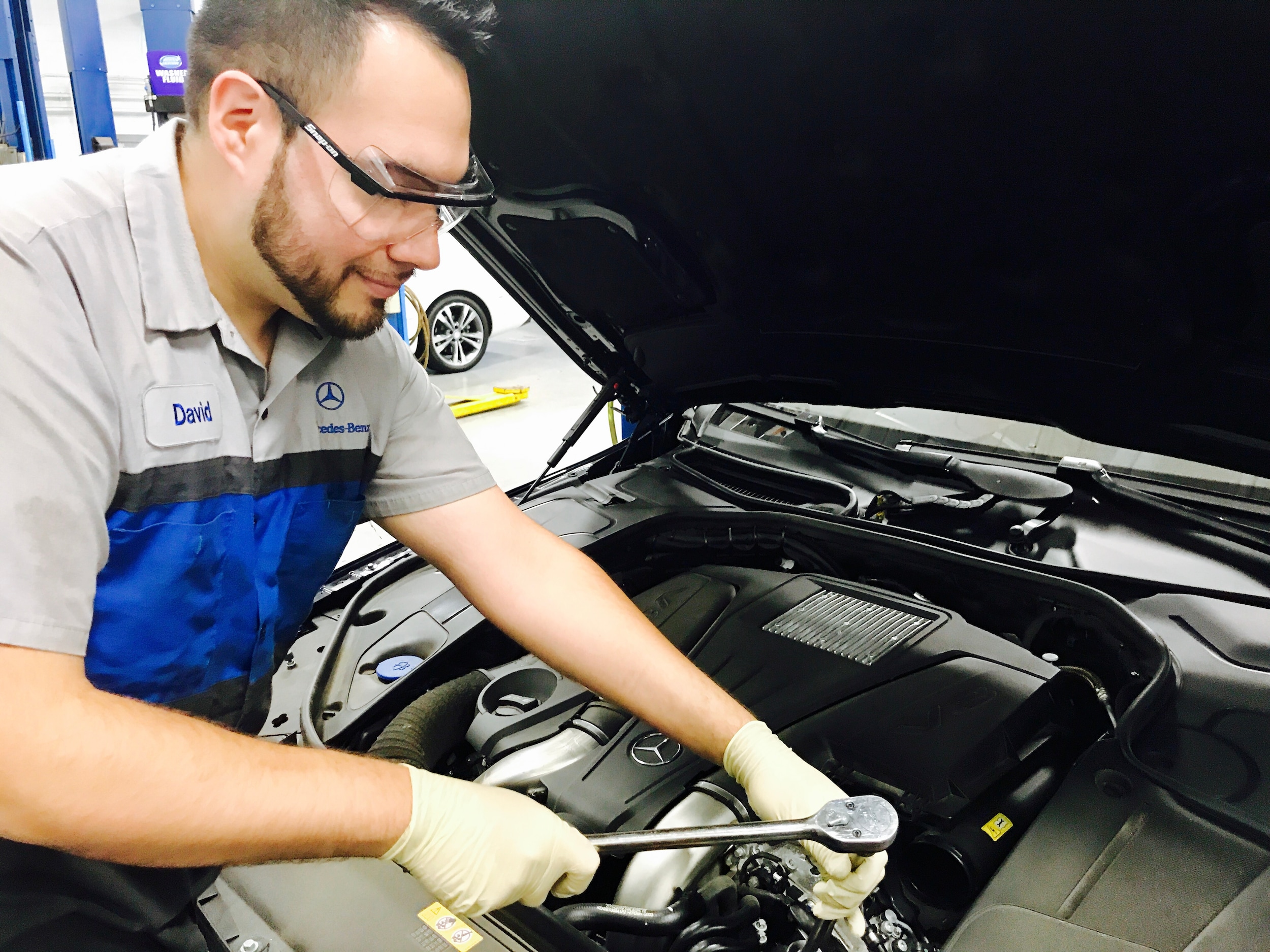 David Galdamez is a technician at Mercedes-Benz of Huntington. David has been working for Mercedes-Benz of Huntington for 7 years now, however not always working as a technician. When he first started 7 years ago, he started as one of our Service Drive Attendants for the first year and a half. Then, David went on and moved from the Service Drive, to the shop and became a technician.
David takes great pride in being a technician. When asked what his favorite thing about his job is, he says, "I love being able to fix problems and make customers happy. It's definitely a rewarding feeling."
Throughout David's career as a technician, he has made lots of memories and found many rewarding moments. One moment in particular he recalled was when a customer went out of their way to show their appreciation for David's work. "I worked on a customer's car once, and they came to me to tell me that they had the best experience," recalled David. "They told me they felt like they were at home and that my work was much appreciated. To this day, that particular customer still asks for me to work on their car, and we are on a first name basis."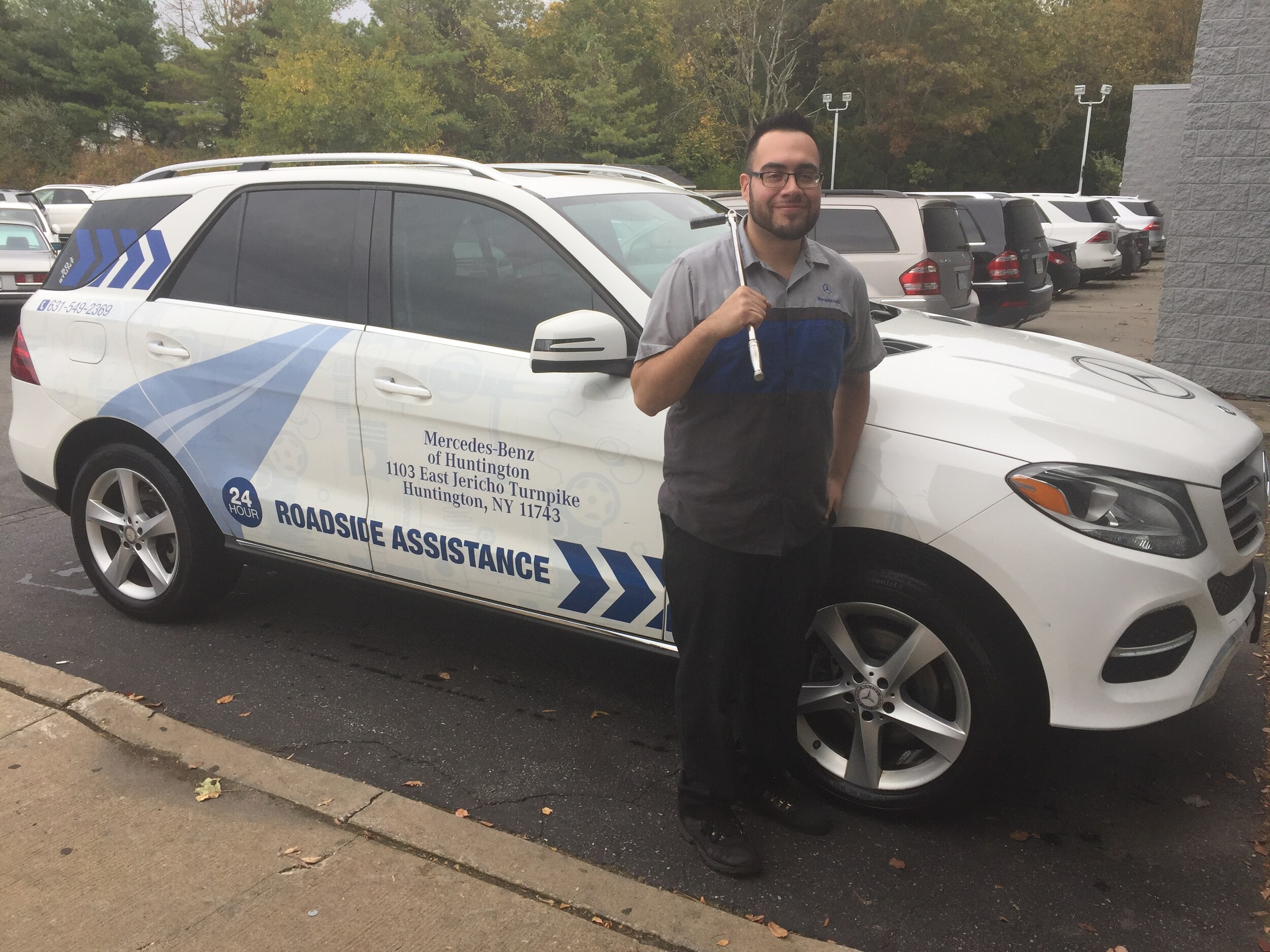 David is also a technician for Mercedes-Benz Roadside Assistance. Working for Roadside Assistance, David is often on call for Roadside, as they are available 24/7 to assist customers. However, he says being on call doesn't bother him. "I enjoy helping our customers and understand that usually having to call Roadside Assistance can be a little stressful," says David, "I enjoy helping our customers in their time of need. I put myself in their shoes." The biggest lesson or skill David has learned from working Roadside Assistance, is how to empathize with people more.
Working at Mercedes-Benz of Huntington, he is most proud of the gain of knowledge he has, compared to when he first started as a Service Drive Attendant. "Mercedes-Benz makes a very complex vehicle, that requires a lot of training and knowledge to work on," says David. "Throughout my seven years here, I have learned so much and feel very confident with the knowledge I have obtained."
His favorite thing about working at Mercedes-Benz of Huntington is the group of people he works with. "It's like family working together," said David. "We're all one big family, and all look out for each other." When asked about his favorite thing about the Mercedes-Benz brand overall, he decided that the history behind the company was most intriguing to him. "There is a ton of history behind the three-pointed star," said David. "Mercedes-Benz has a lot of history behind it, and continues to make history through its innovations and brand."
The next time you bring your Mercedes-Benz into our Service Department, or have to call Roadside Assistance, David could be the one assisting you! He, like many of our other technicians have lots of experience and knowledge with Mercedes-Benz vehicles that in turn will provide you with the best service you can get for your vehicle! Be sure to bring your car to Mercedes-Benz of Huntington's Service Department for your next service! Call 855-777-9693 to make an appointment, or use our online appointment scheduler to make your appointment today!