Premier Express Service
As you may have heard, there is some buzz going on at Mercedes-Benz of Huntington. It's over the Premier Express Service, a system that allows us to service your vehicle in an hour or less, guaranteed. It gets you in and out of here and back to the important parts of your day. The kicker: you don't even need an appointment. Questions? We thought so. We've answered a bunch of the Frequently Asked Questions below.
How do I qualify for the Premier Express Service?
If your vehicle requires one of the following services, you qualify for the Premier Express Service:
Oil Change for model year vehicles up to 2009
Synthetic Motor Oil and Filter Replacement MY 2009 and newer
DMV Inspection
Complimentary Multi-Point Inspection
Complimentary Battery Test
Complimentary Tire Inspection/Set Tire Pressure
Fluid levels inspected and filled as needed
Air Filter Replacement
Wiper Blade Replacement
Tire Rotation
Exterior Bulbs
Battery Replacement (depending on vehicle model and battery location)
For a complete list of Premiere Express Services, check here: Premier Express
DO I HAVE TO make an appointment?
You don't need to make an appointment. It's one of the best parts about the Premier Express Service. If you qualify, our technicians will take you.
CAN I make an appointment?
We understand that you like to have control over your day's agenda. You can absolutely make an appointment if you please, but as previously stated, one is not necessary. Your vehicle will be serviced and you will be taken care of either way.
SHOULD I make an appointment?
It is up to you. As we get things rolling the next couple weeks into April, it may behoove you to make an appointment; however, it is not necessary. Do what fits your lifestyle.
*We will be extending the service department's hours for Premier Express services, only. We hope that these longer hours will be more accommodating to you and our other guests, as they will be provided for your convenience.
*Please check with your Service Advisor or Customer Care Service Coordinator to confirm when these longer hours will be rolled into the schedule. Like any new integration of systems, our Premier Express no-appointment process will become even smoother and more streamlined as time goes on.
HOW DO I make an appointment?
Just like you would any other service, if you qualify for the Premier Express and would like to make an appointment, just give us a call (631-549-2125). Our Customer Care Service Coordinators will be by the phone. They will assist you with finding a date and time that best works with your schedule.
How can you guarantee I'll be out in an hour or less?
Our technicians follow a carefully designed system and well-planned routine for optimum efficiency. This process guarantees your vehicle will be serviced quickly and correctly.
Who is working on my car?
A team of two Mercedes-Benz trained technicians.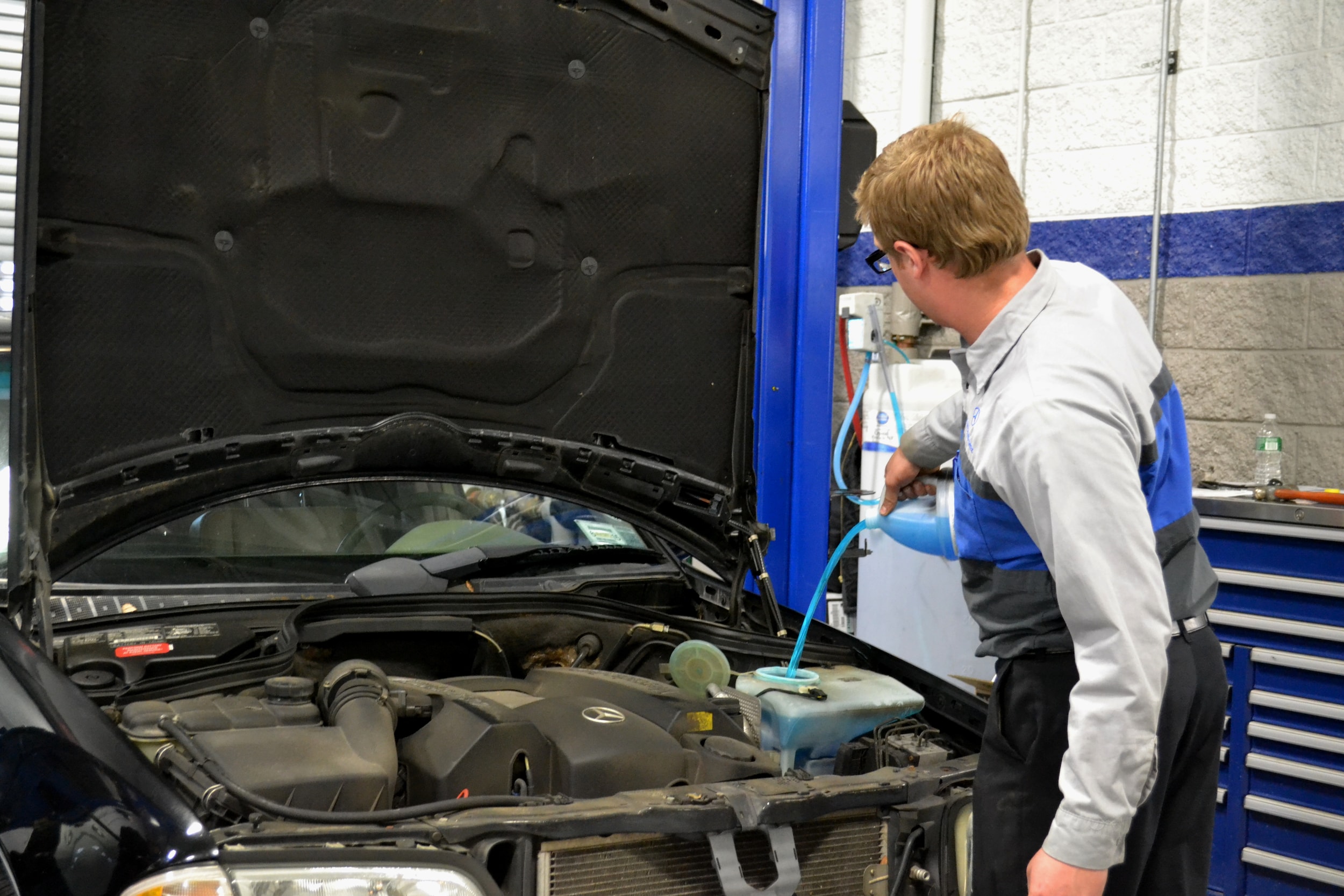 Am I getting the same quality of work?
Absolutely. The system provides your technicians with a checklist and a routine that is never to be strayed from. Each member of the team has designated tasks and every part of your service will have Quality Control accounted for.
Do the services cost the same?
There is no additional charge for any of the Premier Express services. As per other services performed at Mercedes-Benz of Huntington, any additional suggestions or recommendations our technicians give you may result in you choosing additional work to be done.
When would I benefit from the Premier Express Service?
Need a quick fix?
Have a busy schedule?
Like to get a lot of things done in one day?
All of these reasons make you the perfect candidate for the Premier Express Service. We want to provide you the optimal level of convenience and professionalism, and we believe that this system can do that for you.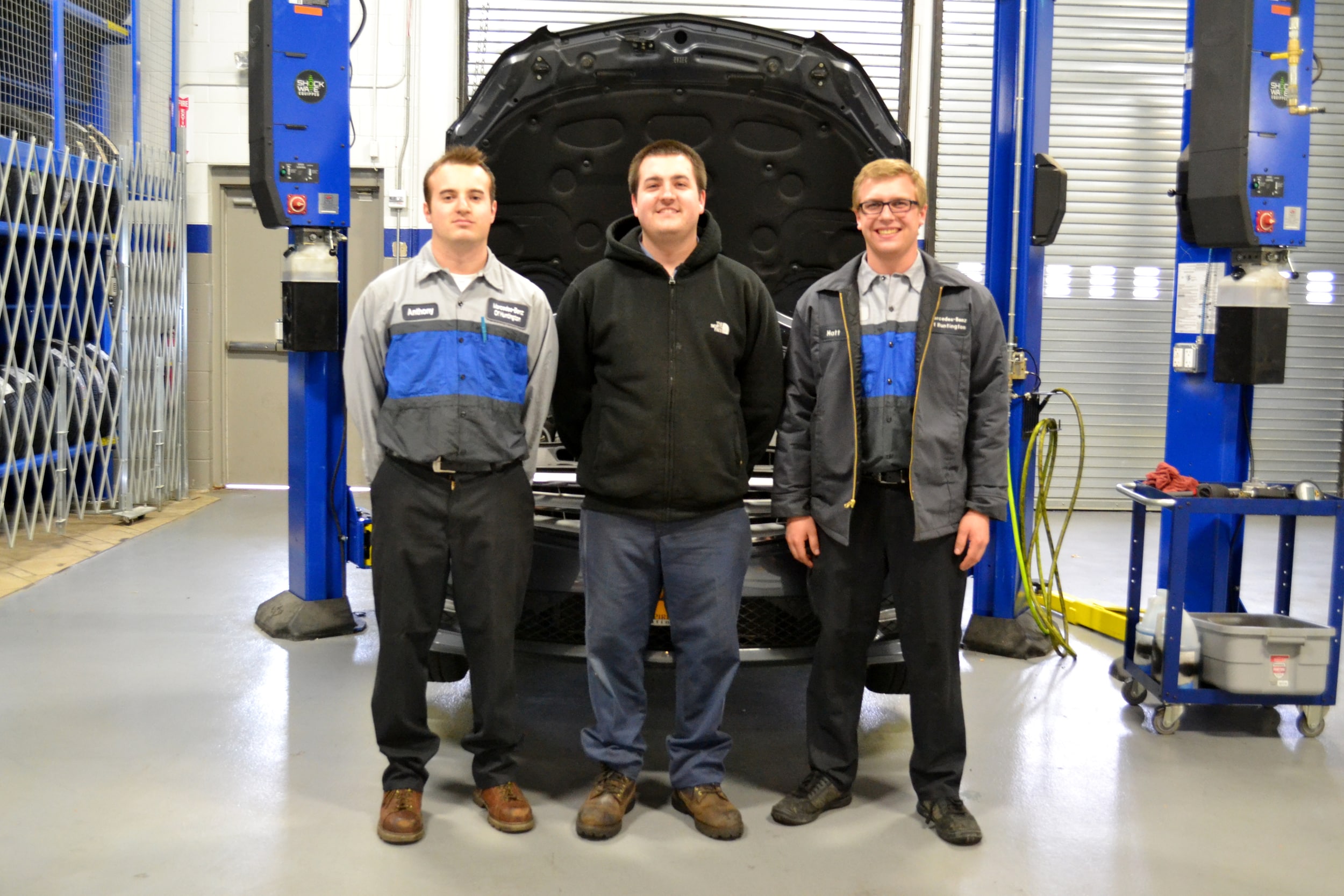 If you're still pondering how it all works (or have a more specific question not answered here)... just give us a call! We'd love to talk to you -- or better yet, have you experience it for yourself. Let's get you set up with your first Premier Express Service. 631 549 2125