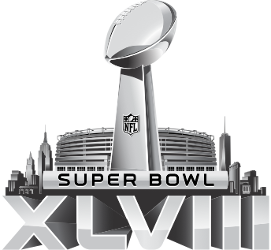 We all look forward to the Super Bowl - some for the game, others for the commercials. One can argue most watch for both. The Super Bowl is truly about entertainment, and by golly, we want to be entertained.
To be honest, whether the Seahawks or the Broncos win, that doesn't matter to me. I will probably root for the former because I've always wanted to visit Seattle. So, gooooo Seahawks!
However, I will be watching for what happens in between quarters and at time outs. All the media that people wait an entire year for - that media that companies spend an awfully pretty penny on, that media they're hoping will reach a hundred million viewers on America's annual Super day.
To give you an idea:
- Super Bowl XLVI (2012) holds the title for the most watched telecast of all time, its viewers reaching a roundabout number of 111.3 million.
- Last year, the cost for a 30 second spot averaged just below $4 million.
- This year, spots will vary in duration, lasting from 30 seconds to two minutes each. (source)
This year, it seems that almost everyone is putting out a Super Bowl commercial.
Audi, Volkswagen -- even Jaguar with its first Super Bowl commercial ever. Were other car companies inspired by our intriguing CLA "Soul" Super Bowl XLVII commercial? Well, maybe. But the truth as we know it is that the success of a Super Bowl commercial can determine the reach of that new model, new idea, or new feeling a company wants to convey.
Because a successful ad means you will be remembered. And being remembered leads to more sales.
No wonder Fox Sports sold out their ad space an entire month ahead of last year.
After watching Audi, VW, and Jaguar's commercials, I've made my judgments, picked a favorite, and have come to the conclusion that our CLA commercial still tops them all. I may be biased, but I also like to think that I'm a rather good analyst. I've left some thoughts, as well as each commercial, below, so that you may analyze in your own right.
Happy viewing - and Happy Super Bowl XLVIII!
+ Jaguar -- Rendezvous:
The first Jaguar commercial to make it to the Super Bowl, it highlights the new F-Type Coupe.
It is celebrity heavy, with lots of face-time on The Avengers villainous heartthrob Tom Hiddleston, a recognizable Mark Strong, and the shepherd of the evil trio, Ben Kingsley -- whom I remembered from Iron Man 3 but who you may also know as Ghandi from the 1982 film.
We don't see the car until 10 seconds into the minute and one second spot, but it too, gets a lot of camera time. The celebs carry on quite calmly about the characteristics of the British and why they're chosen for villainous roles, as these three usually do, all the while the camera pans back and forth from what looks like a high-energy chase scene.
I do like that the commercial takes us back to (and lets less-familiar-with-luxury-car viewers know about) the British roots of the Jaguar name. Plus, the implication that the car keeps up with the speed of the helicopter is so smooth it's almost understated.
Media wise (social media, that is) their hashtag #GoodToBeBad appears here on Youtube in every frame, and I'm curious to see whether this will commit during the Super Bowl or whether it will appear only at the end, at 55 seconds, as Ben utters the same phrase.
+ Audi -- Doberhuahua:
The Audi commercial introduces the 2015 Audi A3, the CLAs newest competition. With the same starting price of $29,900 (although they never mention it), the spot leads us into a dream sequence where compromise leads to an unruly creature called the Doberhuahua. If you were ever wondering what such animal would look like, or act like, your curiosity will certainly be satisfied.
For me, the weird humor, even with addition of pet celeb Sarah McLachlan, just didn't do it. It made a point, but wasn't attractive in doing so and by the time we saw the car at 46 seconds in, even though it looks good, my mind was elsewhere.
They also leave us with a hashtag, this one #StayUncompromised. Understood. No one wants a Doberhuahua running around their home. (I'm still not thinking about the car...)
I'd love to hear how some of you feel about this one. Leave me a comment at the bottom!
+ Volkswagen -- Wings:
Not a beginner to this Super Bowl thing, Volkswagen has a way with reaching people with their ads. You may remember their super-cute (award-winning) 2011 Super Bowl spot to introduce the 2012 Passat. This time, it's not one product, but their brand as a whole. Their message is clear; their method is clever, cute, and appropriate for all ages.
It touches a familiar point with families: mom or dad driving and a young teen in the front seat, someone who's not really thinking about getting a car just yet, someone who spends most of their time on their cell phone - someone who doesn't think it's a "big deal" that a vehicle can do the things it does.
So they add a simple image, a German engineer getting his wings, and a simple background song - and the final product is a commercial that is crisp, fun, clearly understood. It leaves you with a feel-good sentiment and a simple hashtag: #VW. And you remember.